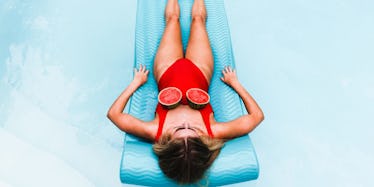 10 Bikini Tops That'll Actually Keep Your Big Boobs In Check This Summer
When I was a kid, all I wanted was to be "The Little Mermaid." My eyes glazed over with joy at Ariel's beachy waves and stylish green fin. I even bought into her hokey love story.
Nearly 20 years later, however, all I can see is Ariel's strapless shell-kini. All the Disney princesses are blessed in the bosom area, but Ariel definitely takes the award for most overtly unsupported cleavage. Don't even get me started on Ursula.
Ariel sets unrealistic standards for girls toting around DDs, Fs and up. No real lady could live without a strap or two to hold her breasts in.
When pool season arrives, us big-breasted ladies are faced with the eternal conundrum: Buy another armored oversize bikini top in tasteful navy blue, or risk sag and spillage in a $10 top with no support.
After weeks of poring over every online shopping site known to womankind, I've found a few examples so beautiful, even Ariel would try them.
Float on, my chesty ladies, breasts bobbing above the water even though the rest of you is submerged. Swim season doesn't mean the end of style.
A bra-sized bikini top with a graphic finish
Try out: Mono Contrast Caged Bandeau Bikini Top DD-G, ASOS, $33
Busty girls dream of the day we'll be able to look good while getting a perfect tan. This swimsuit is the answer to our prayers. Its bra-sized cups mean a better fit, while underwire helps lift the breasts. The top even includes a removable halter strap so you're not forced to hike it up with your hands all day.
Plus, that graphic design? So cute.
An underwire-free excuse to bare your breasts' real shape
Try out: Long Line Top XS-L, Bikyni, $50 
The only thing worse than a bra that doesn't fit is one that forces my E-cup girls into an unnaturally propped-up position. I just purchased this suit for summer, and love that I can relax without underwire chafing my skin.
The top's thick band ensures there's no underboob situation. Trying new styles as a busty girl can be chancy, but I'm here as proof it's worth your time.
A sporty take on a cross-back style
Try out: Kapiti D-Cup Top XS-XL, Lole, $55
Lole is, first and foremost, an activewear brand. Its designers understand how to strap down a lady's twins without making her feel like she's wearing Kevlar vest.
Flashy colors aside, this top's padding provides nipple coverage. Its wide v-cut neckline means your breasts won't be squished together uncomfortably, minimizing visible cleavage.
A sexy take on the little black bikini
Try out: Barcelona Lace Bikini Top XS-L, For Love & Lemons, $128
Sometimes, utility isn't enough in a bikini. For pool parties and night events, consider opting for a top that's a little flashier. This lingerie-inspired number is more "Gossip Girl" than high school swim practice, and I'm down with that.
The top's underwire and adjustable straps make it a good fit for large breasts, even if it's little more than a glorified bra.
A tribal print crop top with an adjustable back
Try out: Caravan Bikini Set 14-22, Becca ETC, $102
Nothing irks me as much as a back that's not adjustable. What happens when I need to hike my chest up midday?
This tribal number is the solution to that problem, with a cross-back that distributes the weight of the breasts and a corset-like lacing system.
A punchy racerback for your inner Sporty Spice
Try out: Solid Sport Bikini Top XS-L, Bjorn Borg, $53
Do you live in leggings? Does lace and frill utterly freak you out? This racerback style is an athletic take on the bikini, with a neon pop of color that still screams "summer."
Play beach volleyball and frolic in the sand without worrying that your breasts will give you a black eye.
A mesh top that makes a high neck look sexy
Try out: Fearless Mesh Inset Cropped Bikini Top XS-XXL, Body Glove, $64
Mesh is the busty girl's best friend, providing a little peek of skin without exposing a full 6 inches of cleavage.
What's more, this style includes a statement zipper that acts as a focal point. Hunky beachgoers will notice your tanned shoulders before your ample bosom, and that's really saying something.
A Mara Hoffman-like print in a flattering sweetheart style
Try out: Durban Underwired Twist Longline Bikini Top, Figleaves, $45
I lust after Mara Hoffman's famed bikini designs, but I can't fathom dropping $200 or more on a single piece of fabric. Instead, I turned to brightly-colored pattern lookalikes. 
This top's thick straps and wide back minimize bulges, while its sweetheart-like neckline frames the cleavage nicely.
A push-up cup with a strappy duotone back
Try out: Brooke Pushup Bikini Top A-DD, Aerie, $20
The Aerie bikini is a cult favorite in the boob community, both for its budget price and bra sizing.
While this suit is on clearance, the brand has a plethora of similar styles that provide support and padding without looking like something your mother might own.
A would-be bikini that makes one pieces look even cooler
Try out: ASOS Fishnet Insert Plunge Swimsuit, $46
Ah, the mythical one-piece. Normally, my breasts sit about at my hips in one of these.
In this particular style, however, a bra-like band sits just below the breasts for support and definition. Plus, those thick straps ensure you'll be comfortable all day.