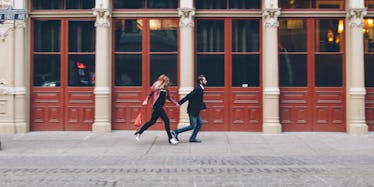 You'll Regret Not Listening To This Powerful Speech Sampled On Beyoncé's New Album
Stocksy
Between a world-wide tour, a baby, a mogul husband and just being Beyoncé, it's borderline unfathomable to think that Queen B found the time to release a fifth "visual album" featuring 14 songs, 17 music video and a star-studded list of celeb collaborators.
Of all the songs, one trash-talking beat, "Flawless," really stands out for its powerful feminist lyrics and her sampling of words from famous Nigerian author, Chimamamda Ngozi Adichie.
The novelist has written extensively on topics, such as race, identity and Nigeria's civil war. In the tune, "Flawless," Beyoncé samples a poignant and clever TED Talk in which Adichie challenges gender norms and suggests "we should all be feminists."
With Beyoncé's thumping beat in the background, Adichie can be heard saying:
"We teach girls to shrink themselves, to make themselves smaller. We say to girls, you can have ambition, but not too much. You should aim to be successful, but not too successful. Otherwise, you would threaten the man. Because I am female, I am expected to aspire to marriage. I am expected to make my life choices always keeping in mind that marriage is the most important. Now marriage can be a source of joy and love and mutual support but why do we teach girls to aspire to marriage and we don't teach boys the same? We raise girls to see each other as competitors not for jobs or accomplishments, which I think can be a good thing, but for the attention of men. We teach girls that they cannot be sexual beings in the way that boys are."
The most inspiring part, however, is when Queen B concludes the sample with Adichie's definition of "feminist." The Nigerian orator says, "Feminist: a person who believes in the social, political, economic equality of the sexes."
It is interesting to note that no where in this definition does it include any mention of a particular gender, making this interpretation appealing and fitting for both sexes. Adichie's definition is strong -- it strips the word "feminist" of any negative connotation and instead makes it about equality rather than the label. Her version argues that we should all be feminists.
It's not the first time we've listened to Bey croon about empowering women. Her last track, "Run the World (Girls)," was an anthem-like chant calling for all women to take the reigns. In this latest album, released early Friday morning, the singer expounds upon marriage, sexuality and empowerment with the same trademark fierceness that we've come to expect from our beloved Queen B.
Even the video clip for "Flawless" is moving. Shot in black and white, Bey can be seen stomping out her bold dance moves in hot booty shorts, looking nothing less than flawless.
Singer, actress, dancer, mom, wife, designer, celebrity, leader...feminist -- add it to the ever growing list of reasons why we love Beyoncé.