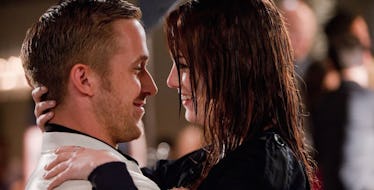 Love Sick: These Vomit Worthy Instagram Accounts Give Me Hope For Romance
Carousel Productions (II)
One of my favorite things to do on my commute home is shamelessly stalk @thewaywemet on Instagram. It's not necessarily the most aesthetically pleasing or top-notch account out there nor is it run by a celebrity. They don't even Instagram cupcakes or things smothered in cheese. But it has the same appeal that animal accounts do: It's so cute that you can't help but want to squish it and "aww" at how adorable it is.
Thewaywemet has risen to fame by chronicling the way couples — some married, some engaged, some dating — have met. Simple, right? Bet you wish you thought of that.
In truth, an account like this is supposed to make me vomit. I've been single for more than a year now, and I've become your average jaded New Yorker. I snap at random guys trying to pick me up in bars, have been known to ditch Tinder dates mid-drink because they annoy me and I believe love and the L train don't mix.
Yet here I am, double-tapping away while I procrastinate getting any real work done.
Maybe it's weird — in fact, my friends think I'm some sort of desperate freak for melting over every couple who met at a seminar in college  — yet, there's something awfully comforting about it all. Then again, maybe my idea of love has diluted itself so much that Instagram is the only place that can reaffirm its existence.
Maybe you feel the same. Let's test your threshold of nausea with these cute-as-can-be Instagram accounts.
@thewaywemet
To be fair, there are some weird posts thrown in there (I won't name names — uh, handles) but for the most part, every story in here is genuine and adorable. It acts as the perfect reminder that you can find love while stuffing your face with ribs at your local BBQ joint or walking your dog in sweatpants and no makeup on.
I don't care if that's cheesy or unrealistic. It gives me hope that I'll meet my future husband (AKA Drake) rocking a five-day-old blowout and a hoodie.
@muradosmann
If you haven't wanderlusted all over Murad's photos, you're about to start. Each Instagram features him holding his wife's hand as they travel to exotic locations. Thanks to a generous dosage of fashion and travel porn, it's a great reassurance of how you're not only single AF, but you also haven't been more than a five-mile radius outside of your apartment for two years.
While that's normally enough to send anyone off on a jealous tirade, there's an obvious beauty to each shot and to Murad's relationship with his wife Nataly. It's a beautiful way to chronicle the adventures that I one day hope to have with my (flamboyantly rich and extremely well-traveled) boyfriend.
@peteandtally
Forget Lady and the Tramp, this puppy couple is living the dream. They're married, living in Atlanta and are proof that size (or breed) doesn't matter. Sure, this isn't love as defined by our rigid terms, but this happily bonded pair just makes me want to grow old with someone and be the little spoon forever.
@twobirdsnest
Weddings are normally enough to piss anyone off — all that cheaply catered food, bad bridesmaids dresses and horny groomsmen can make even the most relaxed wedding guest frustrated — but @twobirdsnest is downright beautiful.
The account features lesbian, queer and trans weddings from both the modern and historical perspective. It's a perfect collection of stories, proving just how hard some had to fight to have his or her love made official.
@thecouplesfeed
A photo feed of people kissing and cuddling while sporting matching tattoos can cause someone's gag reflex to go off, but there's something endearing about all these couples. Namely because they all look so stupidly, blissfully in love that you can't help but want that for yourself. For me, it gives me hope that even Tinder swipes can one day lead to someone who can look at me like that.
Maybe.
@frosandbeaus
If this doesn't inspire you to go natural, then I don't know what will. Not only is this Instagram filled with examples of beautiful curls (and the beautiful men that love them), but it's also easy, lighthearted and fills me with an immense joy.
Please take a look. Try not to smile, I dare you.
@taza
While not explicitly a couple account, there is still something so lust-worthy about the relationship that Naomi Davis, AKA Taza, has with both her kids and her hubby, @tiesandfries. If they don't make you wish you were in love and happy (with three kids, I might add) then, well, I don't know what will.