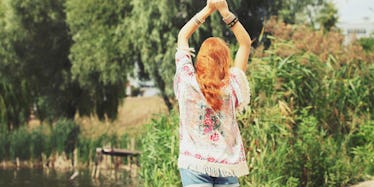 Wrap It Up For Fall: 7 Must-Have Kimonos For Every Day Of The Week
Between ogling trench coats, leather jackets and cardigans, we tend to forget an equally beautiful fall staple: the kimono.
Think about it. Kimonos are lightweight enough to wear during the summer-to-fall transition and make great layering pieces over anything from LBDs to a basic tee and jeans combo.
Seriously, why do we bother with other forms of outerwear?
Cultural appropriation aside, authentic Japanese kimonos are full-length and tied around the waist by an Obi sash.
Unless you're planning on going to a traditional Japanese wedding or tea ceremony, you're probably going to stick with the more modern version, which is typically shorter, not tied around the waist, and comes equipped with plenty of fringe and tassel detailing at the hem.
Kimonos are also way less basic than your go-to black cardigan.
Unsure if kimonos can go the sartorial distance? Here are five ways this style can do all the talking for you every day of the week.
Monday: "I'm still hungover from the weekend."
If the only word you can think of to describe your Monday is "ugh," then this outfit is a lifesaver. A romper means you don't have to coordinate a top and a bottom, and the kimono plays nicely with the ladylike lacy texture of the piece.
Throw on some brown booties à la early-game Taylor Swift, and you're good for whatever sh*t Monday throws at you.
Tuesday: "Why do I have six meetings before noon?"
You're almost through the week! Just kidding, it's Tuesday. Look like you have your life moderately together by pairing an airy kimono with your holy grail boyfriend jeans and the t-shirt you slept in the night before.
Black cutout booties will always be the quintessential cool-girl item. Wear them as you run between conference rooms.
Wednesday: "Oh sh*t, I totally forgot about happy hour."
Remember those plans you made with your old sorority sisters three months back? We know you zoned out 700 group texts ago, but now those plans have come back to haunt you, and you need to get an outfit together, STAT.
Slip into an LBD to show off that flat stomach you Soulcycled your way to, but throw on a kimono to hide the arm flab you've been neglecting because arm day is hard, okay?
Thursday: "Time for another convenient Tinder date."
It's Thursday, you're horny and your vibrator isn't doing it. After a wine-fueled Tinder spree, you decide to go on a date with someone just because they live 10 blocks away, and they'll pay to fuel your alcohol addiction.
The key is to look sexy, but not like you're trying super hard to get it on, so pair that dress that makes your boobs look nice with a longer kimono to emphasize just how short the aforementioned dress is. Pumps? A must.
Friday (night): "I'm drinking my paycheck away."
You just got paid, so might as well throw some hundreds (just kidding, tens) away at the bar. Throw on a bralette with leather shorts as your base and pair with a sheer, fringe-tastic kimono.
Saturday: "He spent the night, so I'm spending the day in."
You took someone home the night before and now you can't be bothered to change out of your lacy underthings. Just throw a kimono on over it — mainly to make sure the Seamless guy doesn't get a sneak peek of your goodies.
Another good thing about a kimono? Easy to slip off for a sexting session later.
Sunday: "Gearing up for laundry day."
You've put off grocery shopping, laundry and the dry cleaner all week, so now is your last ditch effort at proving you're a human being. Pair a printed kimono with a basic gray tee and black skinnies ensemble to zhuzh it up.