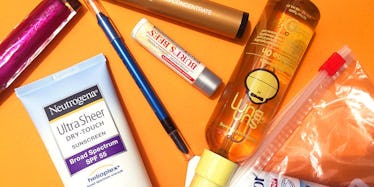 The Ultimate Guide To Packing Your Airplane Liquids Bag For Any Trip
When it comes to packing for a weekend trip away from home, the TSA-mandated quart size bag is travel kryptonite.
Traveling during the summer means lofty beauty goals: Bronzed skin, post-beach waves and even a bright lip to reflect your tropical surroundings. Now, just try stuffing all of that (and its bulky packaging) into a flimsy plastic bag.
After one too many trips spent surviving on deodorant and an oversize bottle of Colgate, we've put together a strategy for tackling the liquids portion of any weekend away.
Being well-prepared means choosing one look and running with it, whether that's island chic or romantic beauty.
Follow our guide, and spend more time thinking about which flavor of ice cream to try next than how your lipstick looks.
A romantic getaway.
Packing essentials:
1. Clean and Clear Advantage Acne Spot Treatment, $8, Ulta 
2. Blow Pro Blow Out Spray, $25, Amazon 
3. Physicians Formula Twins 2-in-1 Correct & Cover Cream Concealer, $9, Jet 
4. LUSH It's Raining Men Shower Gel, $31, LUSH Cosmetics 
5. Benefit Cosmetics Watt's Up! Highlighter,$30, Sephora; Fresh Sugar Lip Treatment in Petal, $24, Sephora
6. Blow Pro Heat Is On Protective Daily Primer, $18, Amazon 
7. Completely Bare Ctrl + Alt + Delete Facial Hair Removal Cream, $9, Ulta 
Game plan:
If a significant other went to the trouble of surprising you with a weekend trip away, it's the least you can do to brush your hair and turn up the sex factor.
Avoid beauty emergencies by packing cream for surprise pimples and hair remover for that stray chin hair you never publicly acknowledge.
When you get ready to head out, craft an easy beauty look with a better-than-your lips moisturizing treatment and a 2-in-1 concealer.
Don't even worry about including your glass perfume bottle, because this shower gel smells so good you won't need it.
You'll even be prepared for a hotel room blowout by packing both primer and hair spray.
A business trip.
Packing essentials:
1. Physician's Formula Super CC Correct + Conceal + Cover Cream, $10, Amazon 
2. NYX Incredible Waterproof Concealer, $4, Walmart 
3. trèStiQue Blush Stick in St. Barths Pink, $34, Sephora 
4. Visine For Contacts Lubricating & Rewetting Drops, $4, Jet 
5. Hand Sanitizer
6. Naturopathica Lemon Verbena Omega-3 Hand Cream, $24, Amazon 
7. Burt's Bees Sensitive Eye Cream, $15, Dermstore 
Game plan:
Nobody particularly wants to spend their days trapped in conference rooms and over-air conditioned hotels, but sometimes duty (and the thought of a promotion) calls.
Consider functionality over glamour when packing for a business trip, focusing on keeping your skin hydrated in the midst of a stuffy environment.
Pare down your beauty routine to concealer – as well as both eye and CC cream – before adding a blush that comes with a brush included.
In preparation for a long day of meetings, stock your purse with bag-sized hand cream and rewetting drops for contact wearers.
Your most important ally, hand sanitizer, will keep you from catching a post-work trip cold after shaking all those hands. Yuck.
Spa weekend with the girls.
Packing essentials:
1. Glossier Balm Dotcom, $12, Glossier 
2. Trader Joe's Spa 100% Australian Tea Tree Oil
3. Neutrogena Norwegian Formula Hand Cream, $4, Amazon 
4. Curlisto Deep Therapy Masque, $36, Birchbox 
5. NYX BB Cream, $9, Amazon 
6. Alba Botanica Even Advanced Sea Plus Renewal Night Cream, $11, Amazon 
7. Arm & Hammer Essentials Deodorant, $2, Jet 
Game plan:
After weeks of long hours at work, you've finally made it to a well-earned spa break.
This trip isn't the place to swap favorite lipstick shades; it's all about focusing on helping your body heal from the wear-and-tear of the daily grind.
Think about layering a light BB cream with tea tree oil, to help dry up any breakouts, and a rich all-in-one product, like Glossier's Balm Dotcom.
Although the spa might have basics like shampoo and conditioner, bring along products that are a treat to use, like a velvety hand lotion, night cream and a hair mask.
Be sure to pack a deodorant, especially one that's aluminum-free. That steam room will amplify the smell your body produces.
A tropical vacation.
Packing essentials:
1. Neutrogena Ultra Sheer Dry-Touch Sunscreen in SPF 55, $7, Amazon 
2. Paula's Choice Sun 365 Self-Tanning Concentrate, $17, Amazon 
3. Burt's Bees Ultra Conditioning Lip Balm with Kokum Butter (2-pack), $7, Amazon
4. Covergirl Liquiline Blast Eyeliner in Violet Voltage, $7, Jet 
5. Urban Decay Revolution High-Color Lipgloss in Big Bang, $11, Ulta 
6. Aquaphor Healing Ointment, $13, Amazon 
7. Sun Bum Beach Formula Shine On, $15, Amazon
Game plan:
On the beach, it's time to channel the Victoria's Secret model you always knew you could be. Think Shakira, and opt for a natural kind of beauty.
Since you'll be spending much of your time in the sun, UV protection is of utmost importance.
Pack a dry feeling sunscreen, as well as a conditioning lip balm and oil spray designed to safeguard hair against sun damage.
If you slip up and burn a little, no worries: Aquaphor will help heal the skin, and you can switch to a fake bake concentrate that works when added to any body lotion.
For nights out, opt for a burst of color with a high-shine lipgloss or jewel-toned eyeliner: simple, but flashy enough to look festive.