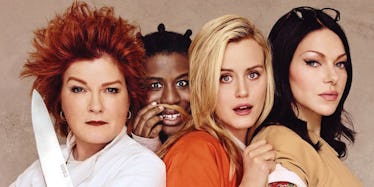 Binging On Beauty: 6 'OITNB' Looks Inspired By The Inmates At Litchfield
Netflix
No one plans on spending time in prison, but "Orange Is The New Black" makes us happy to drop in for the occasional visit.
The ladies of Litchfield Penitentiary are back with a brand new season, and the Internet is already rumbling with plot rumors.
While we always tune-in for the drama, our love of the series really stems from its commitment to creating a variety of individual, diverse female characters.
Every character on the show has a makeup routine catered to bringing out her personality.
Hairdresser Sophia Burset opts for golden brown shades while Whole Foods-buying Piper Chapman sticks to a routine of pinks and creams.
We know you're about to hole up and watch the entire series, but rest assured there's beauty inspiration throughout.
Using only three products, pay homage to your favorite inmates while discussing the newest episodes over weekend brunch.
You're welcome.
Piper Chapman
Piper is the privileged inmate Litchfield never saw coming.
As season two ended, most of the show's characters could no longer be bothered worrying over Piper's selfish relationship with Alex, her on-again, off-again lover.
Although time behind bars has brought pallor to Piper's glowing skin, mimicking her look is easy: neutral shadow, a pink lip and filled-out brows.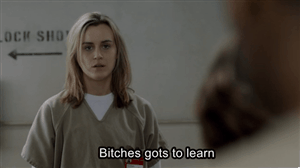 Alex Vause
At the end of season two, Alex had violated her probation and prepared to fire on anyone coming after her.
Although the season finale was dramatic, nothing packs a punch like the theatrical flair of Alex's cat-eye flicks.
Channeling Alex? Sweep on pink blush and matching lip before devoting your to full attention perfectly applied liquid liner.
Dayanara "Daya" Diaz
Daya and Officer John Bennett are everyone's favorite expecting parents, but it's the pregnant prisoner's glow that's stealing our attention.
Daya isn't one for heavy makeup, but her creamy skin and highlights speak volumes.
To get her look, invested in a luxe-feeling foundation, bronzer with a glint and high-quality highlighter.
Nicole "Nicky" Nichols
Nicky found herself sorely tempted by Vee's heroin stash at the end of last season.
When it comes to the enigmatic, loudmouthed Nicky, the only focus is the wild hair and eyeliner.
To capture Nicky's look, apply heavy kohl eyeliner around the eyes and work towards curls with serious volume.
Sophia Burset
Sophia's commitment to rich shades and layered eyeshadow hints at the kind of woman she was outside of prison.
Glamming up like the star of Litchfield style? Rely on glittering eyeshadows and a brown-tinted lip color.
Lorna Morello
Last season put a heavy emphasis on Lorna's life before prison, allowing audiences to glimpse the psychological issues under Lorna's sweet exterior.
With her love of weddings and glamour, Lorna is the most obvious choice for a Litchfield beauty role model.
Modelling herself in the image of Hollywood starlets of yore, Lorna opts for amped-up eyelashes, as well as red lips and nails.
Images via Polyvore