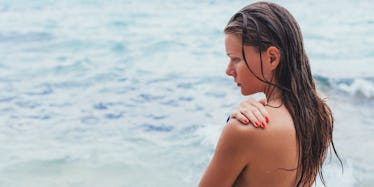 Blend In To Stand Out: Awesome Makeup Ads Reveal Skin Conditions Instead Of Hiding Them (Video)
Makeup ads often just come off as pretty pictures of the women we're already totally-envious of, which should come as no surprise, since beauty lines tend to pick models and celebrities as their spokeswomen — Rimmel London has Kate Moss, Revlon has Emma Stone, and the list goes on.
But skincare company Dermablend has broken the beauty mold with its latest choice of models — women who represent every day people, suffering from serious skin issues.
In the emotional and inspirational ads, the company's models claim that Dermablend products don't conceal, but rather reveal who they really are.
The commercials feature three women, first with the seemingly flawless faces that we've come to expect from women featured in any high-fashion editorial.
But instead of reapplying mascara or lip gloss, they wipe off their foundation, only to show their "real" faces, which happen to have severe skin conditions, including acne and vitiligo.
With bare faces, these women bear all — recounting their personal struggles with their skin issues, and the ridicule they had to overcome to accept themselves as beautiful.
"I want everyone to feel confident and amazing and beautiful as how they are. And I think that a huge misconception in the world is we think that perfection exists. We think that in order to be successful, we have to be a certain way. But in reality, in order to be successful and happy, all we have to do is be ourselves."
via Adweek