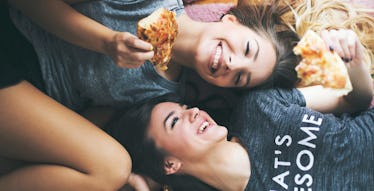 Beyoncé's New Nail-Art Collaboration Represents Her Album Flawlessly (Photos)
Stocksy
It looks like Christmas just came early. Tuesday morning, Beyoncé took to her website to reveal her latest project: a nail art collaboration with cosmetics company NCLA.
Though unexpected, her foray into the nail art world shouldn't come as a complete surprise to fans: Bey is known in the beauty industry as having a penchant for fab fingertips and a range of beauty looks.
Now, we mere mortals can emulate the musician's, well, flawless looks.
The collection, which consists of four packs of nail wraps, is inspired by Bey's music, with each pattern representing a different beauty persona, from glam to street-cool.
A plaid decal dubbed I Woke Up Like This is a subtle nod to the shirt she wears in her "***Flawless" video; the funkier Je Ne Sais Quoi is printed with the rainbow neon lights featured in the video for "Blow;" the No Rest In The Kingdom wrap is inspired by the glamorous Tom Ford ensemble she wore to accept her MTV Video Vanguard Award; and I Come With A Side Of Trouble features scribbles and lyrics pulled from her latest album.
Further, all of the designs are a representation of Beyoncé's own beauty MO.
Her longtime manicurist Lisa Logan explains,
You can never peg what [Beyoncé] wants to wear or who she wants to be that day -- you have to be able to switch it up.
With zero drying time needed, the press-on decals are ideal for switching it up. And at $18 a pop, they're cheaper than your average manicure.
Treat yourself to an early holiday gift and scoop 'em up here.
No Rest In The Kingdom:
Je Ne Sais Quoi:
I Woke Up Like This:
I Come With A Side Of Trouble:
They're $18 per pack at Beyonce.com.
Citations: Beyonce Is Releasing A Nail Line With NCLA (Refinery 29), Exclusive A First Look At Beyonces Nail Art Collaboration With NCLA (Vogue)