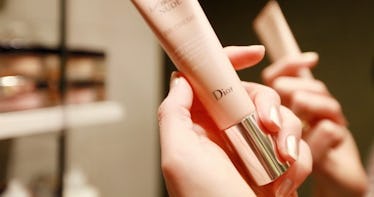 5 Problems, 1 Solution: Why A BB Cream Will Save Your Skin This Summer
With the sun shining on our faces, our sights on the sea and our feet in the sand, there's no reason not to love summer.
It's the time of the year when binge-watching your favorite Netflix show on your couch doesn't seem as appealing as walking in the sun watching happy faces eat frozen yogurt.
While our minds, bodies and souls may benefit from the change in temperature, our skin is more than often left neglected to the dangers of the sun.
Our love affair with the sun isn't a two-way street; its ultraviolet (UV) light damages the fibers in your skin called elastin. When these fibers break down, the skin beings to sag, stretch and lose its ability to go back into place after being stretched.
What's more, your skin increases its risk to bruises and tears, which take longer to heal. Sounds pretty scary, doesn't it?
Coming from my own unfortunate experience with the sun (I blame genetics for my ultra pale complexion that makes me wonder if my parents are actually vampires.), my skin was often left damaged and dry, even after applying bottles of sunscreen.
While your mother wasn't wrong to encourage you to wear sunscreen, dry skin often ends up prone to acne.
While it may seem like your skin is screwed either way, there's one solution to combat all of these problems: BB cream.
This versatile skin care/makeup hybrid promises to do the job of five other jars and tubes: moisturizer, sunscreen, skin treatment, concealer and foundation.
Ni'Kita Wilson, a cosmetic chemist at Englewood Lab in New Jersey, says,
"The idea of a well-formulated BB cream is that it's the only product you'll need after you wash your face."
BB cream is short for beauty balm or blemish balm. The all-in-one formulas became a sensation in South Korea and then spread throughout Asia.
According to Jessica Wu, MD, a Santa Monica, Calif., dermatologist and author of "Feed Your Face,"
"The average woman in Asia goes through seven different steps taking care of her skin. When I was in Hong Kong, every woman I spoke to was using a BB cream to shorten that regimen."
Here are five ways a single BB cream will benefit your skin this summer:
1. Food for the Skin
Moisturizing workhorses like hyaluronic acid and glycerin are found in BB creams. In plain English, hyaluronic acid is naturally found in the body, and secures moisture and creates fullness.
Youthful skin naturally abounds.
As we don't produce enough of it ourselves to obtain retained skin, the extra hylauronic acid found in BB creams will moisturize the skin naturally.
Glycerin is non-toxic in nature, and it helps the skin retain water, preventing dryness and irritation, which often leads to acne.
2. Radiance Boost
Ironically, I was unaware of the cream's ability to protect your face from the sun until I tried it myself.
Being in a committed relationship with matcha (Who isn't these days?), I soon realized that while matcha greatly benefited my body, it also benefitted my skin.
I began to use Erborian, the Korean cosmetics company that developed Asia's latest trend, "the perfect morning BB mask."
This mask combines organic matcha green tea with a cleansing complex to tighten pores, preventing redness caused by the sun.
3. Sunscreen
During the summer, our morning makeup routine is usually extended as we need to apply sunscreen, a primer, foundation etc., leaving you looking at yourself in the bathroom mirror for another half an hour.
Many BB creams offer effective sun protection, with broad-spectrum SPF 30 or higher, which is the American Academy of Dermatology's recommendation for daily use.
There's only one thing you have to do: Read the label.
4. Concealer
Ingredients such as licorice help even out skin tone, and are found in BB creams. This ingredient is often used to treat skin disorders such as rosacea, eczema, psoriasis and dermatitis.
Licorice extract is anti-inflammatory. Inflammation is the body's natural attempt to protect itself by expelling infection and irritants, and it shows up on skin in symptoms such as redness, rashes, itching and swelling.
Licorice extract effectively addresses these conditions in concentrations as low as 1 to 2 percent.
Coming from someone who suffered from all of the above, the right BB cream is definitely worth the investment.
5. Foundation
Applied with your fingertips, these lightweight BBs are easy to use, and are giving traditional foundations some major competition.
Here's why: If you need a little help in the coverage department (and like me, aren't a fan of foundations), one of these high-tech formulas is likely the solution.
It works to minimize the appearance of blemishes and discoloration for a more even complexion.
While the latest trend may be sun-burning tattoos, neglecting and ignoring our skin will catch up to you later on. We're counting calories while forgetting the chemicals we apply on our faces.
Start protecting your skin today, it's the only skin you'll ever have.