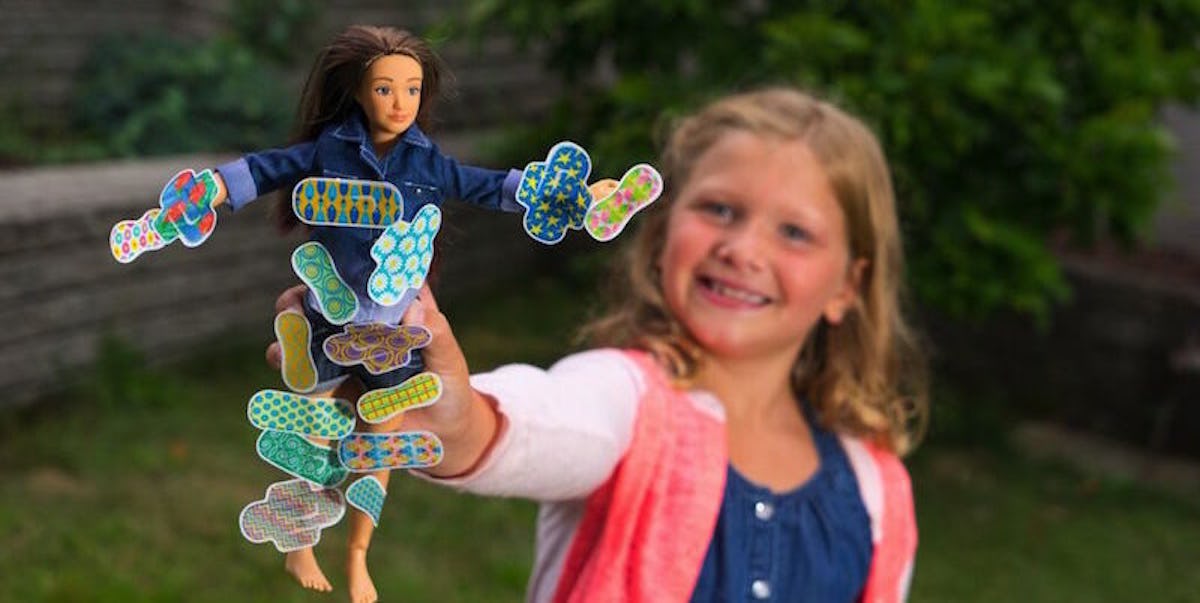 This 'Normal Barbie' With Menstrual Pads Will Teach Girls About Periods
Nickolay Lamm
Let's be real, getting your first period can be traumatic AF. I remember the moment I "became a woman" like it was yesterday.
Some of the thoughts racing through my prepubescent mind included, "WHAT THE HECK IS THAT?", "HOW IS THIS HAPPENING" and "HELP!!!!"
I needed answers. I needed someone to help me through it. I needed a Lammily doll.
LADIES OF THE WORLD, LISTEN UP. Earlier this year, designer Nickolay Lamm brilliantly created a "normal Barbie" with the proportions of an average 19-year-old woman. Compared to the original Barbie, the Lammily doll is shorter, has flatter feet and looks MUCH more realistic.
Lamm also created stickers of tattoos, cellulite and stretch marks to be placed on the dolls' bodies to give girls better understandings of what it's like to be a woman.
But, guess what? A new accessory for the Lammily doll is being released on September 22. MENSTRUAL PADS.
YES, you heard that right. The accessory kit will include a set of colorful pads (re-positionable stickers), a pair of underwear for the doll, a fun and educational pamphlet and a calendar to mark the dates. It will be sold for $9.99.
Confused on how this works? Let me explain.
Look at young Agatha here. Yesterday morning, Mother Nature knocked on her bathroom door with the gift of menstruation. AGATHA IS CONFUSED.
Her parents really aren't sure how to teach her everything she needs to know about the way a woman's body changes. They decide to buy a Lammily doll Period Party kit to help them out.
Agatha used to be nervous to talk about her menstrual cycle, but now she has her doll Joanie to show her the way. Look, Agatha, Joanie wears pads, too!
Parents can now show their daughters how to use pads correctly and calendar plan to keep track of their periods.
The brochure also includes fun illustrations and facts to help debunk some of the myths girls hear about menstruation.
To coincide with this new product launch, Lammily created this hysterical video to show why the Period Party is a perfect tool for parents.
You can buy the Period Party kit and other Lammily accessories on the official website. It's time to start an open and positive conversation about our periods.
Atta girl, Joanie. You the real MVP.