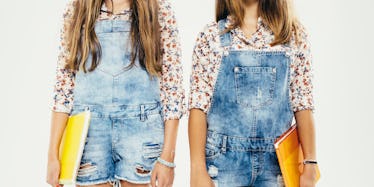 Back To School: 5 Ways To Wear The Trends You Loved In Elementary School
Miquel Llonch
The end of August and beginning of September used to promise three things: fresh notebooks, sharp pencils and brand new clothes.
And no matter how much you loved endlessly watching TV and hanging by the pool for eight weeks straight, getting that list of school supplies and the promise of a new wardrobe were really exciting.
You knew there would be a trip with your mom to the local Walmart or Target, and a stop at the mall to pick up a pair of tennis shoes (probably Etnies or Skechers) and jeans (Hollister or Abercrombie) was hopefully on the agenda, too. Sure, it was probably going to be 85 degrees on the first day of school, but your back-to-school outfit wouldn't be complete without Aeropostale sweatpants and a matching hoodie.
(Un)fortunately, you've grown out of all the clothes you begged your parents to buy you in elementary and middle school. Those bubble shirts and boxy jumpers were long ago passed down to your little sister or donated to Goodwill. The ridiculously priced graphic tees and polos were worn for exactly one school year before you decided you were over them.
But that doesn't mean we can't reminisce a little bit about the looks we once (sort of) rocked. We can still get some inspiration from our 12-year-old selves; we just have to make sure the 20-something version has a say in the matter, too.
Plus, August is coming to a close. It's time to get new clothes.
A polo shirt doesn't have to be reserved for private school.
The polo screams "going back to school." Even if you didn't have a dress code back in the day, you still owned one or two or twenty. You needed multiple in order to layer them and pop the collars!
If you're going to bring this look back, balance out the masculine shape with an A-line bottom and pointed slingbacks.
A bandana can actually be cute, if you wear it the right way.
If you watched "Lizzie McGuire" (and who didn't), there was a point in your life when you just had to have a head scarf. It may not have been very flattering, but you needed it because she had it and you had to hide your frizzy hair somehow. Thankfully, this iconic accessory has been replaced with the bandana.
Just keep it on your neck and off your head.
A jumper is the easiest thing to throw on when you're late for work.
Did your mom dress you in jumpers from ages 5 to 12? Yeah, join the club.
While we probably looked cute in them before puberty hit, the jumper isn't always the most flattering thing for a woman with any kind of curves. To update this look, keep the basic dress simple, but add in polished pieces, like the bag you bought with your first paycheck or a decent pair of heels.
Every 90s girl should recycle the short overalls.
Try not to beat yourself up about tossing the pair you had throughout your grade school days, it probably wouldn't fit now anyway. Just go to literally any store (because overalls were a massive hit this summer) and buy new ones.
Throw on the blazer you mom said you would need for your first job, and you'll add a unique, grown-up spin on the outfit.
Bring back the swishy sounds of adolescence with windbreakers.
Close your eyes and think back to the sounds of elementary school. Do you hear that? The sounds of zippers and windbreaker pants swishing down the hall? I hate to break your nostalgia bubble, but windbreaker pants are never coming back.
Windbreakers, on the other hand, have a shot at reborn popularity. They're functional and sometimes even fashionable. Just make sure the bottoms you're wearing are made of a completely different material, preferably jean.