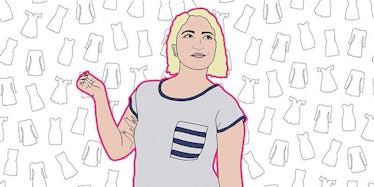 I Asked 5 Of My Favorite Stores To Dress Me Up For A First Date
Kylah Benes-Trapp/Shutterstock
I'm a serial dater. It's not a label I'm particularly proud of, but after several weeks of back-to-back dinners I've begun to accept the fact that I maybe do this more than the average person.
Last week, I was invited to a date that I was — dare I say — excited about. I had butterflies in my stomach, jittering hands and no idea what to wear.
My go-to date outfit consists of a low-cut tee, skinny jeans and my favorite booties. However, this particular Friday was supposed to be scalding, and I also wanted to try a look that was a little different than normal. Clearly, my date uniform wasn't working the magic I'd hoped it would.
So, butterflies in tow, I made my way to five of my favorite stores. I told sales associates my man was surprising me at 8 pm and it was a first date. I also told them I had no idea what to wear or what looked good on me.
Things got weird pretty quickly.
Madewell put me in distinctly unsexy culottes.
I love my body — most days, anyway — but the recurring theme was that I should either hide it under frumpy layers or put it on full display. There was no in-between.
Madewell's outfit felt the most "me." After ducking the store associate's questions about the location of my date and my personal style ("I trust you!"), she picked out a pair of comfy culottes and a patterned top.
I was pretty into it, except — and this is a big except — it's just not a date outfit. I didn't feel sexy in it, but I did feel professional. I'd wear this outfit to a meeting or event, but certainly not to meet a guy I potentially want to get me naked later that night.
I was this close to walking away with the culottes, but didn't want to splurge. Plus, I had four more stores to go.
Anthropologie dressed me as beachy bridesmaid.
Anthro is the real-life version of Pinterest. It always smells like a mixture of Grandma's house and "sex cabin in the woods," both of which are vibes I want to embody on a date (I think).
The in-house stylist had her mind made up about the importance of wearing a dress on my surprise date. She picked out a billowy gold number with feather tassels at the collar, pairing it with a pair of kitten heels. She also hummed what sounded like "A Whole New World" from Aladdin when she walked away, further convincing me Anthropologie is secretly run by fairy princesses.
Don't get me wrong: The dress was pretty. I would totally wear it to a summer wedding, but it did nothing for my body. It felt more like a very luxe blanket than something even remotely sexy.
I don't think it was the sales assistant's intention to make me look and feel like a fancy circus tent, but that's what happened. I felt pretty, but not like I'd want my date's first impression to be this dress.
American Eagle went for sorority girl chic.
In college, I worked at American Eagle and loved when shoppers asked me for styling help.
The sales associate who helped me pick out an outfit was puzzled by my request. I couldn't tell her where we were going, so she had a hard time picking out something for me to wear. A dress? Sure. A tank? OK. It was all a little bizarre to her.
Eventually, she settled on a loose-fitting white tank, a pair of low-rise shorts and chunky sandals. I was actually really into it, save for the fact I don't normally wear low-rise anything. These particular shorts cut into my hips at a weird place. However, the top would've looked stylish with jeans, and the sandals were so comfortable I had to put them on hold.
Would I actually wear this on a first date? Yeah, maybe. Just change the shorts.
Brandy Melville was my own personal nightmare.
There's a memorable Inside Amy Schumer sketch poking fun at how impossible it is for women of a certain size to buy clothes. After receiving nothing but scathing remarks from the associate, Schumer ends up being relegated to a pasture with Lena Dunham and a real-life cow.
Basically, the exact same thing happened to me in one-size-fits-all store Brandy Melville -- minus the farm animals, thankfully. The associate suggested I pair a loose-fitting white top with a pair of denim shorts. She picked up a pair of jorts in a size too tiny to fit my left butt cheek, let alone both.
"These are a small," the associate told me as looked back at her like she'd grown a damn horn in the middle of her forehead.
"I don't think these will fit," I said, trying to keep my cool. "Do you have a larger size?"
She began thumbing through the stack of teeny-tiny shorts, trying to find a pair that would fit my apparently Godzilla-sized bum.  After clarifying that I was probably the store's largest size, she managed to pull out a Barbie-sized medium.
As I had predicted, the shorts made it up to my knees and stayed there. As a last resort, I asked my co-worker to grab a bottom — any bottom — that had the potential to fit. She picked out a pair of cotton shorts, which were surprisingly comfortable. She also admitted they were the only item in the store that looked like they might fit me.
Here's the thing: I'm a size 6 or 8, and usually feel good about my body. My experience at Brandy Melville totally destroyed any self-confidence I might've had that day. I don't blame the associate — I'm sure she had no experience with women above size 2 — but it was still jarring.
Urban Outfitters went cute and simple, just not my size.
I was actually really into this outfit. The top was a bodysuit, which is like wearing an ultra-chic chastity belt --because it's impossible to remove in a remotely sexy way.
The skirt was great, too, but it was also a size too small, which made me sad. They didn't have a larger size, but I was into the outfit anyway. Plus, those mules were everything.
If there's one thing I learned about first date outfits, it's that the ideal first date outfit should be whatever you feel best in. Be that a bridesmaid dress, a tank top and shorts or a muumuu, wear whatever the hell makes you feel like Khaleesi. And we all know that a real Khaleesi doesn't need a Khal.
As for the guy? He turned out to be a f*ckboy. Surprise, surprise.