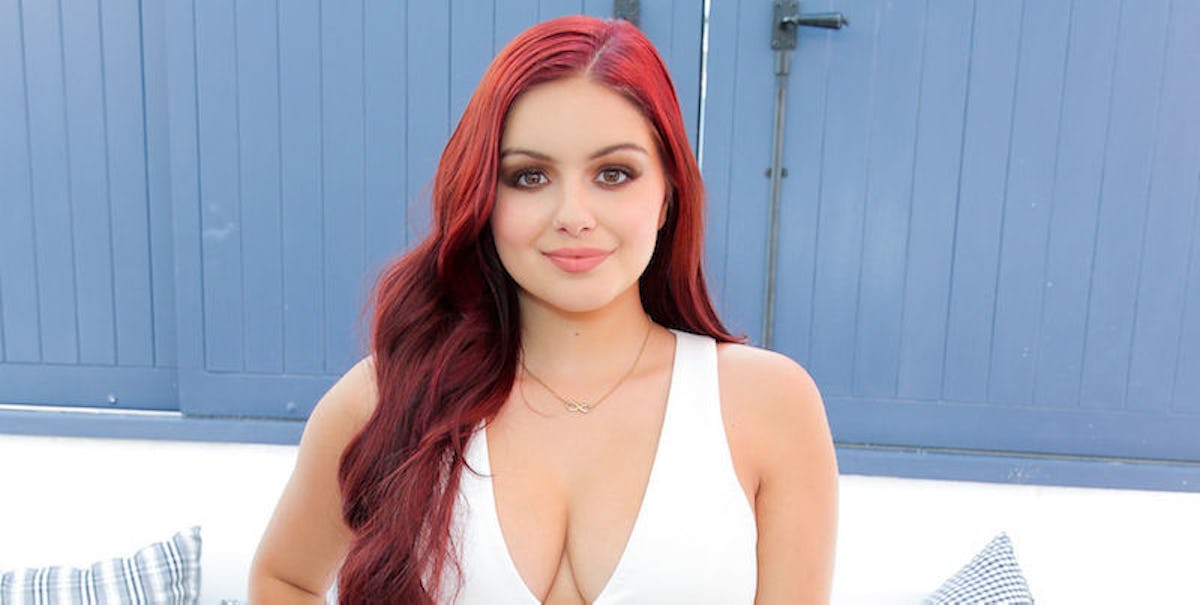 How Ariel Winter Saves Her Hair From Getting Fried After Daily Heat Styling
REX/Shuttstock
Nobody understands damaged hair quite like a celebrity.  Certainly, you've seen the routine stars like the Kardashians go through on a daily basis: dye, wigs, curling irons and blowouts, all in the name of glamour.
If you're on a TV show, those hair appointments are part of your job, just as much as learning your lines. For "Modern Family" star Ariel Winter, 18, the last seven years have meant long, dark locks every shoot day to become Alex Dunphy.
That kind of heat styling can really take a toll on a girl's locks, you know? At a recent event for Dove's #SpeakBeautiful cyberbullying initiative, Elite Daily had a chance to hear Winter's ultimate hair damage hack: argan oil.
Winter explained she's never been one for the Pinterest, DIY hair lifestyle.
She laughed,
I was never that person that, like, broke those eggs over my head and dipped my hair in coconut oil… I'll pretty much try anything.
So, in an effort to keep her hair shiny and split end-free, she's come to rely on argan oil. Derived from the nuts of argan trees, the fatty oil works to deep condition hair. Because of its Vitamin E content, argan oil also promotes hair growth.
Applied to sopping wet hair, the oil actually absorbs into the porous strands and strengthens them against damage.
Winter explained,
I think it's really restorative on my hair. If I've curled it for a few days and straightened it for a few days, I'll put that stuff in my hair. I don't really do roots to ends. I kind of just go halfway down. Or else, I feel like I'm looking at my head like, 'Did I just take a shower? It's sticky, what's happening?'
It's a good thing Winter is caring for her hair because there's only so much a cut can fix after months of wear and tear.
Look at pop star Ariana Grande, who's repeatedly admitted dying her hair red for a role in Nickelodeon's "Sam & Cat" ruined her hair. That's the origin story of her famous (maybe sentient) ponytail.
If you've never tried argan oil before, start with a drugstore brand like OGX Organix. Apply it mid-shaft to end after showers, and see how your hair heals.