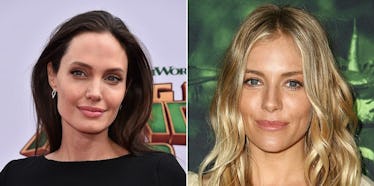 This Magazine's Comparison Of Angelina Jolie And Sienna Miller Will Infuriate You
Getty Images
The Heat magazine seems to have a seriously narrow understanding of women and all of our capabilities, according to a feature they ran on Angelina Jolie and Sienna Miller in a recent print issue.
Rumors have circulated about Sienna Miller and Brad Pitt allegedly spending a lot of non-platonic time together — even flirting at dinner after the film, "The Lost City of Z," which she stars in and he produced.
But Sienna says there's nothing to it at all.  She told Page Six at the Cinema Society screening of the film,
I'm not going to even dignify it with a response. It's predictable and silly.
Still, the rumor mill keeps churning and Heat magazine not only knows for sure that Miller and Pitt and an item, but they are also vouching for Sienna being the more appropriate fit for Brad Pitt.
You know, because the world wouldn't be right if two women weren't literally being "Pitt" against one another, right?
Apparently, Angelina Jolie didn't suit Brad Pitt, since she was into humanitarian causes and way too "serious" for the actor's taste. If you ask Heat magazine? Sienna Miller can take a joke and knows how to smile. That a girl!
According to the magazine, Miller's friend, Poppy Delevingne described her in this way:
She's got this terrific ability to laugh at herself, to take the piss, which is a rarity in his industry.
While this was written about Angelina Jolie:
Ange is notoriously strait-laced, taking her work as an activist and UN ambassador more seriously than anyone ever has in all of history.
This is from the same magazine that had to apologize for printing a sticker that made fun of a disabled baby.
The comparison is as silly as Sienna Miller says the dating rumor is.
This magazine literally highlighted one facet of both women, as if neither of them could carry any other traits.
Sienna Miller is painted as the woman who can sustain a relationship thanks to her lack of seriousness—yet she got pretty dang serious when she shut down Page Six for undermining her work as an actress by suggesting she slept with the producer of the film.
What's even worse is the message this feature sends to ambitious women.
It's also important to note how little Brad Pitt complained about Angelina Jolie's activism when he was traveling the world with her to fight sexual violence in the UK, rebuilding New Orleans after Hurricane Katrina, advocating for world peace in Berlin, Germany and tagging along for other global causes.
Shame on anyone who would dare throw a woman's philanthropic ambitions in her face and use it as a reason why she's too "serious" for a relationship.
Women are not to shrink themselves in anyway to be acceptable for men.
And who said either of these women were just one thing anyway?
Keep ALL of us out of your narrow labels.
Our brains, beauty, humor, seriousness and whatever else we decide to be are entirely too great for the boxes society tries to put us in.