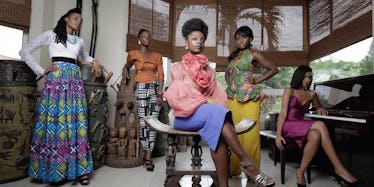 If You Love 'Sex And The City,' You Need To Binge-Watch 'An African City'
Naa Amerley Productions
On a recent Tuesday night, I was high out of my mind watching Nat Geo Wild's "Unlikely Animal Friends" with my roommate and our three dogs. It was a regular Tuesday, except I was feeling adventurous.
While other people see adventure as going out and doing something crazy, I was in the mood to discover a new show to binge-watch. There's more than a month until "Game of Thrones" is back on, so I'm a little bored.
After going through my Netflix queue (too violent, too sexy, too boring), I ended up on YouTube. After several failed attempts, I discovered "An African City."
I'm a "Sex and the City" girl, so I typically don't look twice at anything that seems like it's stealing ideas from my beloved show. However, this is no knockoff.
For one, it's not set in New York. It's not even set in the US. The show takes place in Accra, Ghana, and focuses on the lives of five women who all recently returned to Ghana after spending most of their lives abroad.
The series takes the ladies on "Sex and the City"-style adventures with an African twist. For instance, the women figure out how to get their vibrators through customs, or how to dump someone because he gets too comfortable in her bathroom.
The similarities between the two shows don't end there. Nana Yaa, the protagonist, is a journalist from New York and does the ethereal "and then I wondered" voiceovers that made Carrie Bradshaw famous.
Sade is a total Samantha, in that she gives no f*cks, is professionally successful and, has the sex life I wish I had. Ngozi, the religious one of the group, is a dead ringer for Charlotte. She comes from money, has the best one liners and is sexually unaware. Also, she plans on staying celibate until marriage.
Zainab and Makena are combinations of Samantha and Miranda — both ambitious, badass ladies with even more badass stories (trust me on this one).
The absolute best part, however, isn't Sade's anger over men that don't use condoms. It's not even Ngozi thinking men figure out how you smell "down there" by sniffing your bellybutton. It's the show-stopping fashion.
I'm talking three-tier dresses, wax print tops, flared trousers, ruby red lips, smoldering jet black liner and beautiful braids. There wasn't a single look that didn't have me feverishly Googling, trying to figure out the designer.
Beyond the style, the show also comprehensively portrays contemporary Africa. Through the lens of these cameras, Ghana is cosmopolitan, beautiful and, sometimes, a little frustrating. Interestingly, executive producer Millie Monyo is a New Yorker by birth with self-professed "roots" in Ghana's culture. Writer/director Nicole Amarteifio, on the other hand, was born in Ghana but attended college in the US.
I watched half the first season in one night, and the second half the next. I've moved on to season two, and I couldn't be any more hooked. It also doesn't exactly hurt that each episode is under 20 minutes long and available on YouTube, so it's perfect for low-key lunchtime viewing at the office.
Grab a coke with no lemon (inside joke) and hunker down with Sade, Nana Yaa, Ngozi, Zainab and Makena.