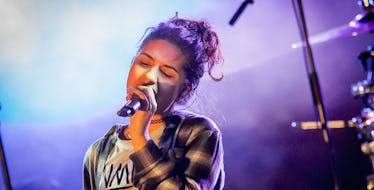 'Here' Singer Alessia Cara Says Early Hair Loss Helped Her Build Confidence
REX/Shutterstock
For women, hair is very often everything.
You're supposed to wax it off your bikini line, legs and underarms, but treasure and preserve the kind growing from your scalp. It's a trophy, a mark of femininity and, sometimes, vanity.
It's not a subject we often discuss, but female hair loss is a very real problem.
That's why it's so important when a female influencer or celebrity comes forward with her story. Pop singer Alessia Cara, whom you probably know from singles "Here" and "Wild Things," has just such a confession.
In a new interview with Lipstick.com, Cara, 20, explains she entered her difficult teenage years while simultaneously watching "chunks" of curls wash down the shower drain.
Instead of just worrying about attracting attention for not being cool enough or wearing the right styles, she was physically trying to cover the bald spots on her head.
She says,
I was constantly looking for hairstyles to hide the bald spots. And I didn't know why it was happening. I just kept thinking, 'Why am I so young and having to deal with this?' I didn't want people to look at me, I didn't want people to get too close.
Cara doesn't address the causes behind her baldness, but they can vary from a hormone imbalance to a side effect of a medication. There's no one solution to the problem, either, and sometimes, the stress makes alopecia even worse.
To this day, she's still experiencing dramatic hair loss and even notes occasional paparazzi shots will show thinning places on her scalp. Instead of hiding from camera flashes, she's learning to build up her self-confidence in lieu of a a quick and easy hair solution.
The experience serves as fuel for Cara's newest song, "Scars To Your Beautiful," which she exclusively performs without makeup in order to honor the insecurities inside each of us.
The video, which dropped in July and featured a cameo from fellow singer JoJo, includes a chemotherapy patient unwrapping her head scarf to reveal a bald head.
Cara explains,
I want 'Scars To Your Beautiful' to reach different types of women. The girl I am talking about, it's me, it's you — it's every girl who has struggled with feeling not good enough. I want to talk about all the different extremes that girls go through to feel beautiful.
I'm all in for a lady who not only has a beautiful voice and perfect curls, but also a healthy sense of self-esteem.
Citations: Alessia Cara Opens Up About Her Struggle With Hair Loss: "There Isn't One Way to Look Beautiful" (Lipstick.com)