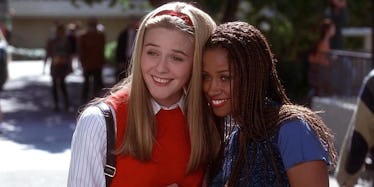 10 Hair Trends Of The 90s That Were So Bad, They Were Good
Paramount Pictures
In my opinion, nothing screams 90s nostalgia more than poofy, colorful scrunchies, right? Wrong!
In honor of the decade that keeps on giving, I chose to celebrate the hairdos that will live on in Millennial infamy.
Every girl is guilty of committing at least one of these classic hairstyle crimes, even though she probably denies it.
We know the 90s was a time of the grunge era, but there was no need for women to act out in anger on their hair in this way.
Guided by the pubescent MTV generation, celebrities and television's biggest stars helped women across the country embrace the trends of the moment.
Guinea pig or not, these hair fads defined 90s style at its finest.
The more accessories, the more envious admirers and gentlemen callers we had... or so we thought.
Love 'em or hate 'em, the 90s encouraged self-expression with any statement piece necessary.
10. Bandanas
Embroidery? Paisley patterns? Skulls? My god, nothing was off limits while wearing this rag around our heads.
Although, more often than not, we associate this rockstar look with biker dudes, we forget fashionistas are the ones who decided to make this the chosen accessory for the close of the century.
9. The Pixie
The androgynous cut could only be pulled off if you had a perfectly structured face with elevated cheek bones and a dazzling, winning smile.
For the rest of the population, well… that's what hair extensions are for.
8. Feathered Bangs
There needed to be just the right amount of lift at the root in order to sustain the proper wingspan around the face.
Big, round brushes were a vital instrument in framing the flyaways ever so particularly.
The hairspray may have left your scalp itchy and dry, but that's nothing compared to the emotional damage you suffer from viewing old middle school photos of yourself.
7. Skunky Color Streaks
A girl's badass persona was gauged by the sizable range of chunky colors painted abruptly throughout her head of locks.
Infusing bright, bold and contrasting colors was a key element to prove to everyone you're simply just a girl in this world who cannot be tamed by men or society.
Nothing says "get away from me" more than looking like a skunk.
6. Spikey/Twisty Up-Dos
A dainty, sleek pony tail or ballet bun? As if!
If you were going to rock an up-do in the 90s, it simply wasn't complete without obnoxious amounts of twists and spikes.
It wasn't your standard messy bun; there was a lot of strategy involved in creating the fanned-out look of misplaced wisps.
5. Britney Braids
Whether you chose a preppy fishtail, French pigtails or you were basically just trying to copy a popstar's iconic introduction into mainstream, braids were everywhere.
4. Crimpin' Ain't Easy
Depth, body and volume are always chic. Whether it's spiral curls, beachy cascading waves or fresh cut layers, the bigger, the better — except in the case of crimping, that is!
However, the 90s runways and leading ladies all fell victim to the crimping iron.
Not only was this a time-consuming process, but it also did nothing for attracting the opposite sex, unless, of course, they were hungry and mistook you for a plate of crinkle fries.
3. Flip-Out Blow Out
The bob haircut only survived the 90s by its "girl-next-door" true identifier: the flip.
Popularized by the "hotties" of Hollywood, every girl decided to chop it off and flip it out instead of under.
2. Butterfly Clips
The mini butterfly clips were to the 90s what hairspray was to the 80s: You could never get enough!
The more diverse the assortment was in your collection, the better.
As long as the various pastels and other color combinations of Mariah Carey's favorite added accent matched your overall outfit, you were ready for a night on the town.
Or, at the very least, it secured you a seat at the popular table in the cafeteria.
1. The Rachel
Without a doubt, this was the biggest hair revolution in fashion history. The Rachel was a hairstyle of epic proportions.
Jennifer Aniston has famously proclaimed her dissatisfaction that her hair made more headlines than her career roles.
Despite her attempt to crack jokes, the "Friends" character's hair continually evolved from season to season, only solidifying her title as a hair icon.
The actress single-handedly is responsible for the most requested quaff of all time.
In 2015, women are still bringing in photos of "the Rachel."