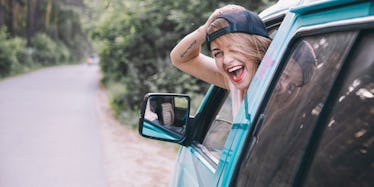 5 Ways This Generation Can Help Close The Gap In Gender Equality
Stocksy
Although women have come a long way from the discrimination and struggles they previously faced, statistics still show inequality to be prevalent in the working world.
The Clinton Global Initiative (CGI) focuses on all of the inequalities women face today.
As 20-somethings continue to shape the world, we can focus on how to make change toward equality -- here are five ways:
1. Showing Strong Female And Male Leads
Male costars often sideline women in film and TV. From blockbuster movies to popular television shows, females are substantially less visible in leading roles since the days of Carrie Bradshaw and her three best gal pals.
The Disney hit "Frozen" does not involve the standard Prince Charming and damsel in distress scenario, but instead, focuses on two sisters and their unbreakable bond as they accept each other for who they are.
Spoiler Alert: That catchy "Let It Go" tune we've heard over and over for the past year isn't about a breakup, but 21-year-old Princess Elsa accepting herself for who she is.
Now, that's what I call a role model. #GirlPower
2. Recognizing Globally That Gender Equality Is About Feminism
While gender equality was initially an issue only females fought for, men are now realizing their voices matter, too.
In recent years, men have begun to address inequalities and stand up to discrimination females face. HeForShe is a solidarity movement for gender equality that brings together one half of humanity in support of the other half of humanity.
"It is time that we all see gender as a spectrum instead of two sets of opposing ideals," UN Women Goodwill Ambassador Emma Watson explained. "We should stop defining each other by what we are not, and start defining ourselves by who we are."
3. Make Internet Access More Available
A recent report confirmed more than just universal effort will be required to close the gender gap worldwide.
It is a product of No Ceilings, an initiative the Clinton Foundation launched last year in hopes of taking stock of what's changed since 1995.
This study discovered that in the developing world, some 200 million fewer women than men use the Internet, and 300 million fewer women own cellphones.
4. Support Companies That Take A Stance
In 2013, among full-time, year-round workers, women earned 78 percent of what men were paid.
Women in every state experience the pay gap, but some states are worse than others.
According to the AAUW, the best place in the United States for pay equality is Washington, DC, where women earned 91 percent of male salaries in 2013.
At the other end of the spectrum, Louisiana is the worst state in the country for equal pay, where women earned just 66 percent of male salaries.
However, after all of the attention gender equality has received, the pay gap has still barely budged in a decade. So, what do we do to fix this?
When Joe Keefe became CEO of Pax World Management LLC, he partnered with Sallie Krawcheck's Ellevate Asset Management to launch The Pax Ellevate Global Women's Index Fund, which became the first global index fund to focus on investing in the highest-rated companies aimed to advance women's leadership.
Keefe believes gender inequality is the "great economic issue of our time." Like other modern-thinking CEOs, he believes that by eliminating discrimination, we'll be able to experience growth like we've never seen before.
5. Have A Voice, Whether Small Or Large
Any voice for gender equality is one more voice heard. Lately, it seems celebrities are not only speaking their opinions on gender equality, but also taking stances.
When asked in a 2012 Daily Beast interview whether she's a feminist, Taylor Swift answered, somewhat evasively, "I don't really think about things as guys versus girls. I never have.
I was raised by parents who brought me up to think if you work as hard as guys, you can go far in life."
Tina Fey and Amy Poehler used George Clooney's award at the 2015 Golden Globes as an opportunity to, instead, talk about how badass his wife, Amal, is, saying,
"George Clooney married Amal Alamuddin this year. Amal is a human rights lawyer who worked on the Enron case, was an adviser to Kofi Annan regarding Syria and was selected to a three-person UN commission investigating rules of war violations in the Gaza Strip. So tonight, her husband is getting a lifetime achievement award."
Whether man or women, some who have been fighting for gender equality have been fighting for the duration of their professional lives and some of them just stumbled upon a cause.
Some of them don't always stay with the cause and some are new advocates for gender equality.
Regardless, time and specifics do not matter. What matters most is that they all question inequality and they all set out to do something about it in their own ways, in their own industries.
Little by little, we can make a difference.