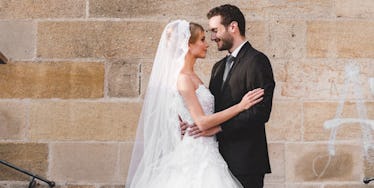 15 Things Every Girl Should Have By The Time She Hits Her Mid-20s
Sometime around your mid-20s, you're expected to have your sh*t together — but, you probably don't. You probably still buy most of your meals through Seamless, you think about working out a whole lot more than you actually work out and sometimes, you fall asleep in your work clothes. It happens. Don't beat yourself up about it.
There are a few things, however, that even the laziest female adult should have accomplished by this age. Luckily, some of them don't even require putting on pants. Check it out:
Routine waxes
I'm not telling you how your vagina should look but if you're up for suggestions, Brazilians are the way to go. This isn't just for a certain guy or because you're planning to wear a revealing bikini — I mean, you should get them routinely and for yourself. Find a lady you trust who does nice work and go every three-to-four weeks.
A skincare regimen by which you swear
Unfortunately, your skin does age. It's the worst and you can't stop it, but you can slow down the process. By the time you hit your mid-20s, you should have an identified skincare regimen that works for you. Whether it's toner, skin serum, facial masks, facial cleansers or moisturizer (or all of them!), establish your routine.
A restaurant to which you can bring guests
In your adult life, you may host visitors. Maybe your old college roomie, a sorority sister who is in town for the weekend or a family member will drop by and sometimes, unannounced. You won't always be up to stop life and cook a meal, so knowing of a good, nearby restaurant that serves solid food and has a fun ambiance is great to have in your back pocket.
A KitchenAid mixer
If you bake often, this one's no-brainer, but a KitchenAid mixer is truly a good investment for all people. Whether you want to make cookies, sauces or even pasta, this mixer can be used a million different and it comes in so many colors. It also looks great in your kitchen.
A signature scent
By the time you hit your mid-20s, you should be weening yourself from Victoria's Secret body sprays. Unless you're in middle school, you have no business smelling like "Love Spell." Invest in a quality perfume or create your own, one-of-a-kind scent.
A go-to house-warming gift
When visiting a friend's home, it's customary to bring a gift just to say, "Thank you for allowing me into your home." Candles, wine and meaningful trinkets are good ideas.
A standard drink for when you're out
Secretly, my favorite drink is coconut Ciroc with pineapple juice, but since that's difficult to find everywhere, my go-to order is order a Mai Tai. It's easy to always have a drink in mind so you don't have to bother thinking at the bar.
Something to make your house smell nice
Newsflash: spraying Febreze on your futon does not qualify as cleaning your space. Go buy a diffuser or candles and enjoy when your apartment smells fresh and like vanilla bean.
Perfected daytime and nighttime makeup looks
I've watched a solid number of YouTube makeup tutorials, but I don't always want to rock a "bombshell smoky-eye with a pop of color and sexy red lips!" because I'm not a cocktail waitress. Learn to perfect a great neutral daytime look and a sexy nighttime look that doesn't require much time or 14 different brushes.
A great strapless bra
Get a great strapless bra — not one with sparkles or crystallized hearts or red lace, just a sturdy, solid nude or black strapless bra. It will change your life.
A solid lingerie collection
There's nothing more unattractive on a woman than bras with stretched out straps, discoloration under the arms or ill-fitting cups. When it comes to panties, THROW AWAY anything that's stained (yeah, we all get periods — no excuse) or torn. Just, get them out of here. Invest in a lingerie collection that makes you proud. You wear bras and undies every day and it's the first layer that touches your body. Make it count.
A quality bag that fits everything (including a laptop)
I only own big bags because I'm a crazy woman who always needs to have everything. (Seriously, I once found three bottles of water in my bag.) But, as a working woman, you should have at least one quality bag that's big enough to fit your laptop.
A set of pretty cards for thank you notes
I send tons of emails, tweets and texts. All of it is easy and fast, which our generation is big on. However, it's still important to go out and buy some pretty cards that are blank on the inside that you can send through the mail. Why? Because they're pretty, personable and thoughtful. You can't post a tweet on your mantel.
Nice workout clothes
The clothes in which you sleep shouldn't be the same clothes in which you workout. There are so many stores that sell really cute workout clothes. Besides looking awesome at the gym, they also help motivate you to stay active. Imagine waking up, putting on your cute workout leggings, your trendy workout top and your colorful sneakers. Now you look adorable enough to run errands AND you're already dressed for the gym.
Photo via We Heart It