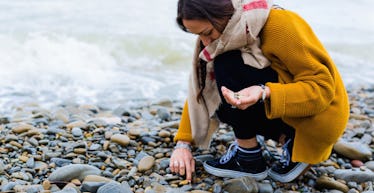 15 Things We Learned From Carrie Bradshaw About Sex And The City
Carrie Bradshaw is the ultimate New York "It Girl." She taught us everything we know about Manolo Blahnik, cosmopolitans and hailing a cab.
She is the epitome of style, class and beauty, both inside and out.
Almost everyone has met a woman who walks around Manhattan channeling this 90s icon.
Not only did Carrie teach us about shoes, cocktails and public transportation, she also taught us some of the most important lessons about sex and relationships in conjunction with the city that never sleeps.
1. Women come to Manhattan in pursuit of the two L's: labels and love. Labels go in and out of style, but love, like friendship, is always in.
2. Grief is a healthy stage that follows heartbreak; however, one is only allowed a certain number of tears per man before it's time to move on.
3. When you first come to New York and realize how expensive everything is, you tend to spend money on things that feed you more than food, such as Vogue, cigarettes and cocktails.
4. Squirrels are like unattractive women; they are rats trying to disguise their hairless tails with fur coats.
5. Men are like drugs; they get you high and then drag you down. You become addicted to the anguish of wanting that unattainable first high that you will never reach. Regardless, you keep chasing it with the conviction that maybe, just maybe, it won't bring you down even further.
6. Sometimes we get stuck on the memories of old relationships because they remind us of who we used to be during that period of time.
Failing to leave the past in the past does not necessarily mean that we want our old flames back; it has to do with finding ourselves and figuring out if we are happy with who we are or if we have changed for the worse.
The past is an anchor holding you down; you need to let go of who you were in order to become who you will be.
7. Sex with an ex is never a good idea. If you enjoy it, then that simply indicates you haven't gotten any since the breakup. If it makes you feel horrible, well then, it's just sex with an ex.
8. Love and heartbreak both change us in the same way. It's easy to forget this because while love is something we wait for and yearn for, heartbreak is something we do not like to predict, for we know how wretched it is bound to make us feel, even if it is for the better.
9. In New York, it's difficult to walk in a single woman's shoes, so make sure you invest in fabulous ones.
10. Men are like designer dresses on sale at Barneys; they aren't your style, but you try them on anyway.
11. The people who sit alone at coffee shops with their laptops are not pretentious, brooding narcissists. They are people who have just moved in with their significant other and realize that perhaps they have made a mistake.
12. In New York, you never know who you will run into. Just about anyone, from Anna Wintour to your ex and his new girlfriend, can be lurking around the corner.
13. Many people move to New York because of the way it is glorified in the movies. In reality, however, no one has breakfast at Tiffany's and no one has affairs to remember. Instead, we have brunch at 11 am and try to forget our affairs as soon as possible.
14. Never lose touch with who you are because of fear. You've made it this far, so don't be afraid to do you and go a little further.
15. Falling in love is beautiful; however, never forget to fall in love with yourself first and realize that you are just as beautiful on your own as you are with the man you love.
Photo Courtesy: Fanpop