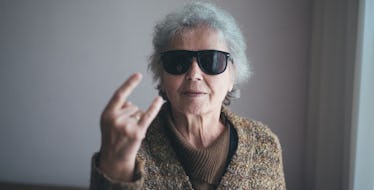 14 Lessons To Learn From Barbie
Stocksy
1. You either stand up straight or get bent over Barbie basically has only 2 body positions: standing straight or getting bent over. This is one of the lessons you can learn from our plastic friend. If you are not standing up straight, tall, proud and confident, you will inevitably get bent over by life. *To be fair some Barbie's legs let them bend at the knee. Which allows for a 3rd position: on your knees. Doesn't really help the cause.
2. Always brush your teeth Barbie's teeth are so white that a coke fiend on a binge may try to snort them. They literally sparkle. You better believe if Barbie were a real person her breath would smell like an evergreen forest. Take note from Barbie and always keep your teeth clean, breath on point, and if need be, use Crest White Strips.
3. Never cut your own hair I think it is a rite of passage for some little girls to completely mutilate their Barbie's hair. There is a sick satisfaction in butchering Barbie's blonde locks. If you cut it short enough, she begins to resemble Cynthia (The doll from "The Rugrats"). This is definitely a life lesson. Don't ever cut your own hair, your own bangs, your own anything. Even if you think you know what you're doing, you probably don't, unless you're a hairdresser. Unlike Barbie, our hair does grow back, but in the meantime you are going to look like Britney circa 2007 or Amanda Bynes circa now.
4. Every girl needs her Dream House Barbie has a lot of accessories, but the dopest one of all has to be her Dream House. Barbie shows you that there is no reason you can't have a pink mansion, if that's your cup of tea.
5. Don't be racist Barbie gives us a lesson in tolerance as she has befriended nearly every nationality.
6. Pets are fun Barbie has had over 70 pets including the standard dogs, cats and parrots. She has also been caretaker to more exotic wildlife like tigers, dolphins and unicorns. While I'd like to believe Barbie was a loving pet owner, deep down I think she did it all for the accessories. Pets are fun, but if you are going to own them in real life, try to stick to one or two and by no means ever be within the vicinity of more than 1 cat at any given time.
7. Every guy you meet will eventually be revealed as dickless Whether literally or metaphorically, you will inevitably find yourself in that little girl "WTF" moment upon realizing that Ken is missing a penis. A façade of manhood disguised by his muscles and wide jaw line, with nothing to back it up. Don't be as naive as Barbie was. Realize that most likely every man is going to disappoint you at some point in some way or another. Be prepared for the flesh colored briefs that you will face.
8. Life should be wheelchair accessible: "Share a Smile Becky" We love Share a Smile Becky. If there is anything that she and Drake tell us, it's that this world should be wheelchair accessible. Becky looked super cool rolling around in that chair too and I'm pretty sure that Barbie was very jealous that she had the ability to sit down.
9. Don't settle for anything less than a Corvette or a Jeep You don't see Barbie rolling around in an '89 Volvo station wagon. No, Barbie pays her own bills and she has a fly whip to match. Whether riding around town in her convertible or off-roading in her pimped out Jeep, Barbie keeps it 100 when it comes to her wheels.
10. Sometimes your ex is your next Barbie proves to us that the break-up-make-up cycle is real. Years of on-again/off-again with Ken may have left Barbie heartbroken, but she got it in while Ken was away (clearly not jerking off due to lack of genitalia) with Blaine, her Australian rebound boyfriend. But like so many others, Barbie couldn't resist going back to her one true love, and eventually ended up back with dickless Ken.
11. Your wardrobe should reflect your ADD You'll never see Barbie in the same outfit twice. With impeccable style, this girl has an outfit for everything. Want to go to a ball? Horseback riding? Swimming with dolphins? She has an ensemble for nearly every occasion and she exercises them frequently. While it would be ridiculous and probably financially impossible to achieve the wardrobe of Barbie, you should still have fun with your style. Try and make as much out of your wardrobe as possible by mixing and matching or buying long-term pieces.
12. Blondes have more fun There is a reason Barbie is a blonde. Barbie reigns alongside the great blondes of the past like Marilyn Monroe and sheds a light for the misguided blondes of the present i.e. Miley Cyrus, Amanda Bynes (with wig on).
13. You can be anything you want to be If there is one life lesson to take away from Barbie, it is that you can be anything you want to be. Barbie has literally been a part of almost every profession shy of, like, assassin. The high intelligence positions: Sign Language Teacher, Dentist and Photographer. The sexy ones: Stewardess, Lifeguard, Runway Model. Even the low-income jobs: Bus Driver and McDonald's Cashier. Barbie has done it all and there is no stopping her. This is one of the purposes of Barbie: to inspire girls to shoot for the stars. While no human being could accomplish all that Barbie has done in one lifetime, that shouldn't stop you from using her as inspiration. Pick one of her careers as your goal and make it happen. The Dream House and pink Jeep will follow.
14. Girls run the world Like the other Queen B said. When Barbie became President of the United States in 2000, it was made clear that girls do, in fact, run the world. While in real life we have yet to see a woman as president, it is only a matter of time right? There's really nothing women can't do if we all choose to live as fabulously as Barbie does.
Photo Credit: Tumblr
Kayla Inglima | Elite.