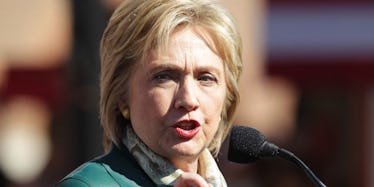 Move Over Hillary: These Are The 10 Women We Wish Would Run For President
MediaPunch/REX/Shutterstock
In light of Hillary Clinton's recent speech at Toronto's National Metro Convention Center, in which she stated that she wants to see a female president in her lifetime; we have chosen women who we wish would run for president.
While you most likely won't see these women on the ballot in 2016, we think that they would be kick-ass at the job.
Beyoncé
Bey would not only have the dopest first man, Hov, but her alter-ego last name is "fierce." She is one of the baddest bitches of our generation. From music, to movies, to starting her own charity, Chime For Change, Mrs. Carter has always been on top. Who run the world? Girls.
Angelina Jolie
This stunning woman is the ultimate role model. Not only has she made a fortune for herself, but she is constantly giving back to society. She is a humanitarian who has donated millions to charity. After receiving a double mastectomy in May, Jolie recently stood up to the UN Security Council and convinced them to prioritize war zone rape.
She is ruthless in fighting for justice, and that is a vital component of a great leader. "I've been reckless, but I'm not a rebel without a cause," she said.
Tina Fey
This woman is both f*cking hilarious and intelligent. I think we would all vote for her Sarah Palin impression over the real Sarah Palin in a political election. She is so awesome that someone actually made a website dedicated to her awesomeness: tinafeyisawesome.tumblr.com.
 Lady Gaga
One of the reasons our nation hasn't voted for a female president is because we think women are too soft to be successful diplomats. That definitely isn't the case with Gaga. She's not only a musician, but an activist who isn't afraid to stir up controversy for what she thinks is right… like wearing a dress made out of meat in public.
Oprah
This woman single-handedly kills the game. You don't become one of the richest, self-made women in America by taking the easy way out. Oprah is one of the hardest-working women in our country, who has continued to inspire women to succeed. Her talk show and network have brought Americans' stories of struggle and triumph to the eyes, ears and hearts of millions of viewers.
Jennifer Lawrence
Only a couple of years into her career, she has already won multiple awards, including an Oscar and Golden Globe. She is level-headed and down to earth, which is a quality that most presidents lack. One of the best things she ever said was: "Why would I ever get cocky? I'm not saving anybody's life.
There are doctors who save lives and firemen who run into buildings. I'm making movies. It's stupid." JLaw is saving lives however. The actress currently supports 5 charities.
Ellen Degeneres
Ellen is a groundbreaking comedian and a role model. Her PSA, "Be Kind" raised awareness across the nation about bullying. She has managed to make her image, not as a lesbian, but just as Ellen. She is inspiring for minority groups. President Obama himself agrees that Ellen is a "Gift from God":
Lena Dunham
This chick is re-defining what it means to be a woman. She is controversial and far from politically correct, which is precisely why we need her as president. Dunham supported the Obama campaign to young voters with an ad that said, "Your first time shouldn't be with just anyone…vote for Obama." That is the kind of whit and comical relief we need in politics, props Lena.
 JK Rowling
I think Drake wrote "started from the bottom" about JK Rowling. Okay, maybe not, but he should have. This woman went from being nearly homeless to being the richest woman in England, surpassing the QUEEN OF F*CKING ENGLAND. However, Rowling is no longer a billionaire after she donated a large sum of her money to charity. Can we steal her from England for the 2016 election?
 Betty White
"Why do people say  'grow some balls?' Balls are weak and sensitive. If you wanna be tough, grow a vagina. Those things can take a pounding." Wise words, Betty White. How amazing would it be if this woman became president? She may be old as f*ck, but she is one of the sassiest women in America. The key to Betty's long-lived success is strictly being a badass. Most of our presidents have been eloquent. We need a diplomat who will cut to the chase. One of Betty White's most famous quotes is, "If I had a dick, this is where I would tell you to suck it."