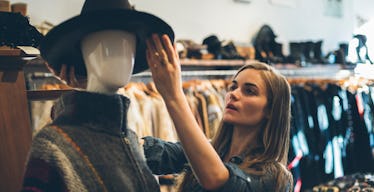 10 Things That Make A Girl Beautiful Instead Of Hot
Stocksy
Beautiful. It's a powerful word, one not thrown around as frivolously as hot, pretty or any of the hundreds of words we've come to describe women, debasing their worth to nothing more than the symmetry of their face and the fullness of their lips.
It's a word that holds power and prestige far beyond that of any other adjective. It's a sacred word, one kept for those who truly can't be described any other way.
It's a word that chases women to plastic surgery and extreme diets. It's the base of all women's desires and lifelong struggles.
But isn't beautiful about so much more than looks? Isn't it in that extra thing -- that thing that makes a woman beautiful instead of hot?
We've already debated the differences between hot and beautiful, but we never really answered what exactly makes a woman beautiful -- what dictates a woman's right to that elusive status, what embodies that strong adjective we hold to such high regard?
By now we've learned that looks are in the eyes of the beholder and there is indeed a somewhat mystical quality of the soul that can turn a beautiful face into an ugly one.
People who have "beautiful" exteriors can begin to look ugly after you get to know them, while someone with a somewhat "average" face can become the most beautiful person you know, proving that beauty isn't just a façade, but an iridescent quality that is not solely dependent on one's gene pool.
It's the quality that elevates a woman from just hot or sexy. It's in the way she walks, talks and presents herself. It's the way she radiates from the inside, out. It's her soul and her spark and that thing you just can't put your finger on.
It might be the girl you don't notice at first, the one who doesn't always stand out. It's the girl you need to get to know, whose beauty becomes more defined with every conversation, every glance. It's a word that describes women who can't be classified as just hot.
Her passions define her more than her looks
There is nothing more beautiful than a woman with passion. A girl who gets excited about things, lives for things and holds things close to her heart is a girl worth knowing.
She's the girl you'd rather talk to in bed than take to bed. Because passion is contagious and watching someone get excited about something is the most beautiful quality you can find in someone.
She shows you her real face
Women have the right to wear makeup and there is nothing wrong with that. However, a beautiful woman doesn't feel the need to hide behind it.
A beautiful woman does not do anything for anyone but herself, whether that means wearing makeup or going barefaced to work, she makes sure you know that she does not owe her looks to you.
She doesn't chase the limelight
A beautiful woman doesn't fight for the limelight, but is naturally endowed it. The allure of the beautiful woman is that she does not need to work hard or fight for attention.
She is confident and humble, which usually presents a mysterious quality that attracts people more than outlandish gestures and cries for attention. She doesn't take away from others or place her worth on how many people she's talking to.
She knows how to talk
There's nothing worse than a woman who doesn't know how to use her mouth. A woman who knows how to speak her mind intelligently, who can captivate you with her words and opinions proves that there is nothing more beautiful than intelligence. Smart is sexy and words have the power to turn any girl into the woman of your dreams.
She can go it alone
A woman who doesn't need a man is a woman who is confident -- and confidence is the key to real beauty. A woman who doesn't need the approval of others radiates with a security and poise that elevates her from the status of just another hot face.
Because being a woman isn't about needing a man, and a beautiful woman understands that she, herself, is enough.
She's tight-lipped
There's nothing more intriguing than a woman of mystery, one who keeps her affairs private and those unnecessary words to herself.
Because there is nothing uglier than people who talk just to hear themselves speak. A beautiful woman is full of surprises and becomes more beautiful the more time you spend getting to know her.
She bends over backwards
Is there anything more beautiful than selflessness? Beauty is found in those who care about more than just themselves.
A truly beautiful woman is compassionate and caring; she will never hesitate to blow her cover by showing that she cares. Hot girls play with your heart, beautiful girls mend it.
She's open
Beautiful women do not limit themselves. They are open to new ideas, places and people. They do not shy away from things because of stigmas and fear, they are beautiful in their boldness and their open minds.
She's got soul
There is such a thing as people with ugly souls and we've all met at least one person who proves it. A beautiful woman radiates not because of her tinted moisturizer or glossy hair, but because of that something inside her that just makes you want to be near her.
Hot girls don't need to you show you their souls, beautiful women attract you with theirs.
She's got that thing
You know that thing, it's the thing you just can't place. It's something that you can't put into words, let alone describe to your friends.
It's the special something about her that you can't place because you've never seen it before. It's the defining quality of the beautiful woman, the thing no one can ever completely describe.
Photo via Instagram