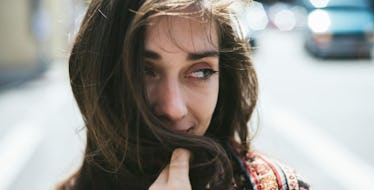 The Actual Difference Between Women Who Are Hot And Who Are Beautiful
Women. We're curvy, skinny, hood, pretty, cute, ethnic, bad, dime pieces, unicorns, babes, pieces of tail, juicy, fine, sexy, foxes, sultry, voluptuous… The list goes on.
When was the last time you heard a man describe a woman with an adjective that wasn't dripping in sexual innuendos and defaming premises? When was the last time you heard a man describe a woman by something that compliments her soul and her inherent elegance? When was the last time you heard a man describe a woman as beautiful?
There's been a loss of respect when it comes to admiring women, shifting towards describing us as objects, rather than people. Men look at women as pieces of tail, "things" to be conquered, rather than appreciating women for their individuality.
A large portion of today's men are momentarily allured by hair extensions, large chests, big bottoms and stilettos. They think sexuality comes in the form of bronzed skin, bikini waxes and fake eyelashes. They've been programmed to believe that any woman with a sculpted body and perky breasts is attractive.
What about the women who don't want to indulge in the male fantasy? What about the women who just want to wear comfortable sweaters and flats? What about the women who don't dress to impress the opposite sex, but instead, to just feel good in their own skin? Isn't there attractiveness in that? Isn't there an appeal to that sense of confidence?
When did women become forced to acquiesce to this standard, or otherwise get lost in the crowd? When did getting a man mean painting on layers of makeup and investing in mini skirts?
There is a certain type of man that continually defames women, judging them solely on sex appeal, failing to see the actual grandeur of women. These are the men who don't understand the concept of natural beauty and uniqueness in flaws.
They don't recognize that "hotness" doesn't last past midnight, when the makeup has smudged onto the pillow and the hair extensions have been taken out. It doesn't last when the spray tans have washed away and the tight dresses have come off.
It's not real; it's an illusion that's been forcing women to conform to unhealthy habits for too many years.
It's time these men are reminded of the difference between hot and beautiful. It's time men realize that women have more to offer than just a body.
Women are stunning creatures, with assets and traits both unique and enchanting to each one of us, and it's time we started showcasing our individuality and stop giving in to the illusion of sexy created by man. Because beauty isn't about wanting to f*ck her; it's about wanting to be with her.
Hot is admired from afar; beauty is to be held.
Hot is perception; beauty is appreciation.
Hot is smokey-eyed; beautiful is bare-faced.
Hot is an appearance; beautiful is more than skin deep.
Hot is the way she moans; beautiful is the way she speaks.
Hot is a strong appeal; beautiful is strong mind.
Hot is youthful; beautiful is ageless.
Hot is conventional; beauty is unique.
Hot is a one-night stand; beautiful is sleepless nights.
Hot is a state of being; beauty is in the eye of the beholder.
Hot is devious; beautiful is innocent.
Hot is bending her over; beautiful is baking her blueberry pancakes.
Hot is sultry; beautiful is wholesome.
Hot is her curves; beauty is her nerves.
Hot is a text message; beautiful is a love letter.
Hot is a facade; beautiful is a woman.