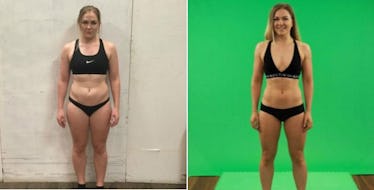 Woman Who Had Insane 8-Week Transformation Shares Easy Trick To Still Eat Pizza
body+soul
Most people probably wouldn't characterize weight-loss programs as lenient.
No, the words that usually come to mind are more along the lines of "difficult," "impossible" and "I need a cheeseburger now, or else I will die."
Caitlin Rose, on the other hand, had the privilege of enjoying pizza, wine and burgers during her eight-week program.
Rose, 27, knew she wanted to start losing weight after she managed to rip two pairs of jeans in the span of one week. At the time, she weighed in at about 163 pounds.
After dumping her jeans in the trash, Rose — who works as an executive assistant in Sydney, Australia — signed up for something called RAW by Varlah, which offers a myriad of fitness programs, all designed to cater to various ages, fitness levels and interests.
The program costs $69.95 for unlimited workouts and a nutrition plan. It also incorporates weight lifting into its on-demand exercise classes.
Rose told Daily Mail Australia,
From a training point of view, I was training six days a week for eight weeks. One day was a rest day, and one day was a stretch day, which was needed with all the heavy lifting,
The biggest appeal of the program to her was the ability to continue eating all the foods she loved while she trained.
She added,
I was able to eat things like pizza, burgers and have the occasional glass of wine. I didn't have to say no to my friends when there were plans for dinner and these meals were balanced with very healthy meals, too.
Over the course of eight weeks, Rose lost approximately 13 pounds and 40 cm off her body measurements.
As if that wasn't awesome enough, the health benefits she's seen from the program have actually gone beyond getting her body in shape.
She said,
Apart from having friends and family commenting on how good you look, having my skin clear up was a huge factor for me. I suffer from a skin condition called pityriasis versicolor, so my hips and elbows and legs always had this red rash and I always felt self-conscious wearing a bikini if it was really bad. It's now much more manageable and barely noticeable, and I believe it's from streaming the Varlah programs and eating a much more balanced diet.
Rose is so pleased with the results she saw with RAW, she's already signed herself up for another of Varlah's programs, called DICED.
So, not only has the 27-year-old seen some amazing physical health benefits with this program, but it sounds like she even found a way to cultivate a natural, intrinsic motivation to keep her weight-loss journey going.
Rose said,
I've toned a lot, but I would like to try and lose a bit more body fat and then who knows — I might do another round of RAW as I really enjoyed being able to do weights from home. I might mix it up – do some outdoor training and mix up what workouts I stream mostly based on what I feel like doing day to day.
Citations: 'I just wanted to cry': Woman, 27, who embarked on fitness mission after ripping two pairs of jeans changes her entire body shape in just EIGHT weeks (Daily Mail Australia)