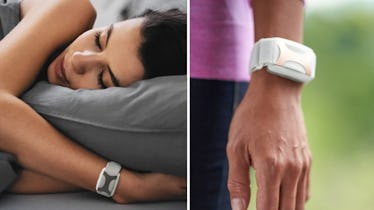 This Wearable Tech Is Clinically Proven To Help With Stress, Sleep, Focus & More
"It is the first thing that has truly helped me sleep after battling insomnia all my life," claims one glowing review.
We may receive a portion of sales if you purchase a product through a link in this article.
Many of us turn to smartphones, social media, video games, and TV to unwind after a rough day — but when it comes to stress relief, a lot of technology can make it harder to feel calm and present. The Apollo Neuro wearable is the exception. This clinically backed technology isn't a tracker. Instead, neuroscientists and physicians developed this device at a University of Pittsburgh lab to relax your body, boost focus, reduce feelings of stress, and help you sleep better at night. In order to see if it actually works, I tried the Apollo Neuro first-hand.
FAST FACTS:
Developed by neuroscientists and physicians
Clinical trials showed improved sleep, focus, and stress relief
Safe for most people (including kids) and can be worn at multiple points
Use five days a week, three hours a day for best results
Choose between seven different modes to set your ideal mood for the moment
Available in six colors and three sizes
What Is The Apollo Wearable & How Does It Work?
The Apollo Neuro isn't a standard fitness tracker. Instead, it creates soothing, gentle waves of vibration in specific patterns to send safe but powerful signals to your brain. Choose between seven different patterns, including modes designed for improving sleep, minimizing stress, boosting physical and mental performance, feeling more confident while socializing, and more. Since touch and biological well-being are connected, this intends to train your nervous system over time.
My First Impression
Given how high-tech this wearable is, I expected the set-up to be equally as complicated. It wasn't. After charging the Apollo for a few hours on the included micro-USB cord, I just downloaded the app, synced the wearable, slipped it onto the included Velcro band, and put it around my ankle. Aside from charging, the whole process took less than five minutes.
Right off the bat, I found the app to be very straightforward. I just picked one of the seven modes (Energy and Wake Up, Social and Open, Clear and Focused, Rebuild and Recover, Meditation and Mindfulness, Relax and Unwind, or Sleep and Renew) and specified the intensity and the duration. It started vibrating, and I went back to doing my thing.
My Results
I've been using the Apollo wearable every day for about two weeks now. In my experience, it really does help to keep me calmer and more focused throughout the day. I'm experiencing less brain fog and more clarity, even after a full day of work. (I can't say I've noticed a difference in my sleep quality, but that's likely because I rarely use those modes, as I personally don't often have trouble falling and staying asleep.) I even lent it to a loved one who was experiencing some heightened anxiety, and within a half hour, he was relaxed enough to lie down and take a nap.
I thought I'd have trouble incorporating this device into my daily routine for the recommended amount of time (three hours a day sounded like a lot), but in actuality, I've found it super easy. I just strap it onto my ankle in the morning, and it's comfortable enough that I often forget I'm wearing it. In fact, I use it so regularly, my biggest complaint is the battery life — it lasts only about eight hours, so it requires regular charging. Otherwise, I've found it both convenient and surprisingly effective.
Finally, while I've had a meditation practice on and off for over a decade, the Apollo wearable appeals to me because it aims to reduce stress while I'm working (or cleaning, exercising, socializing, cooking, and tackling anything else on my to-do list) so I don't have to stop what I'm doing.
What Does The Science Say?
A team of experts developed the Apollo wearable using scientific research, but the brand continues to conduct research in order to prove the effectiveness of its product. While there are nine trials still underway, seven completed clinical trials showed:
A 19% average increase in deep sleep
Up to 30 more minutes of sleep a night
Up to 25% increase in focus
An average of 40% less stress and anxiety
50% faster access to meditative states
How Do You Use The Apollo Wearable?
Get the Apollo Neuro: Each order includes the wearable, a band, a clip, a micro-USB charging cord, and access to the Apollo Neuro app for iOS and Android. Choose between six different colors (Stealth, Silver, Twilight, Snow, Glacier, and Rose) and three sizes (small, medium, and large).
Put it on: To use the Apollo Wearable, you have to put it somewhere on your body where it can make contact with your skin. It can be worn on a band around your wrist or ankle, or on a clip that attaches to your bra, shirt collar, or waistband.
Select a mode: Using the Apollo Neuro app, choose a mode that describes how you want to feel at that point during the day. There are seven to choose from. Then, set a duration (typically between 15 to 60 minutes) and set the desired intensity. Beginners should start at an intensity of 20% to 40%, meant to be low enough to forget you're wearing it.
Use consistently: While it's designed for easy use and implementation, the Apollo wearable doesn't claim to be a one-time fix. Consistency is key to effectiveness. The brand recommends using it at least five days a week, three hours a day. The Apollo Neuro app helps make this easier by creating a custom routine.
Who Should Use Apollo Neuro — & Who Shouldn't?
According to the brand, the Apollo wearable is safe for basically anyone to wear. Various studies have shown no significant negative reactions or side effects from consistent use and limited EMF exposure. Since it's non-addictive and easy to use, the brand even recommends it for kids who struggle with stress or focus, and the band comes in a small size to fit children's wrists.
A notable warning: The brand says to not wear the device over any site of injury or irritated skin.
What Do Reviewers Have To Say?
So far, Apollo Neuro has earned an overall 4.7-star rating after more than 1,500 reviews on its site. And while the price tag is pretty steep, one past buyer wrote that it's "totally worth it" given the "excellent results."
"Having had insomnia for years, I am willing to try new products and I prefer products that do not need to be swallowed," one reviewer wrote. After using the Apollo wearable, "I am getting more sleep as I do not wake up as often with anxiety." Another wrote: "It is the first thing that has truly helped me sleep after battling insomnia all my life."
"I work in a high-stress sales position in the tech industry," a different reviewer raved. "Being a working mom is a stressful gig. Apollo takes the stress factor away. I cannot recommend this product enough!"
Finally, another customer wrote, "This is the most amazing device. I have suffered from anxiety for years. I finally feel in control since getting my neuro watch."
Final Verdict
If your usual methods of stress relief aren't doing the trick, the Apollo Neuro wearable could change the game. It was designed by neuroscientists and physicians using scientific research, and thoughtfully designed to make it easy to integrate into your life. Using the power of touch therapy, it aims to boost energy, focus, recovery, relaxation, confidence, and sleep quality — and according to clinical studies, real reviewers, and my personal experience, it works.
This article was originally published on