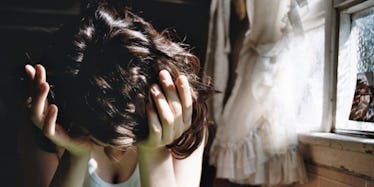 A Teen's Hair Transformation Shows The Physical Toll Depression Can Have On A Person
Getty Images/Mariana Pacho López/Empalagarmedemar
She is only 16 years old, yet she couldn't get out of bed unless it was to use the bathroom. Her hair was matted, tangled, and in unmanageable knots. It wasn't until this teenage girl with depression got a hair makeover that she finally received the uplifting she truly needed.
The teen, who has remained anonymous, stepped into an Iowa salon one day and was greeted by hairdresser Kayley Olsson. After years of battling severe depression, the 16-year-old had reached a point where she had stopped caring about her hair, and hadn't even taken the time to brush it, let alone do much else to it. She hoped Olsson could help her out, especially since she was about to have her yearbook photo taken at school.
Olsson was nothing short of sensitive and compassionate when it came to the teen's condition, and she made sure to handle this particular client with the utmost care.
The hairdresser took to Facebook to describe exactly what happened. She wrote in her post,
When she walked in she told us, 'just cut it all off I can't deal with the pain of combing it out.' She called herself worthless for it. It honestly broke my heart and we tried everything we could to keep this child's hair for her!
After a total of 13 hours spread over two days, as well as lots of combing, detangling, cutting, and washing, the teen's hair had been totally transformed.
In her Facebook post, Olsson made it a point to really shed light on the implications, consequences, and the often under-discussed physical toll that comes with struggling with mental health conditions.
She wrote,
At the end of the day I want this to be a lesson to people. MENTAL HEALTH is a thing, it affects people all around the world and of all ages! PARENTS take it serious don't just push your kids off and tell them to get over something they legitimately can't. A CHILD should NEVER feel so worthless to not even want to brush their hair.
According to Healthline, 350 million people suffer from depression, and today's teens are reportedly more depressed than ever before.
Depression is one of the most serious, and unfortunately silent, mental illnesses a person can be afflicted with. It's so important to be aware of those more subtle signs of the condition, such as lack of care in appearance, as seen with this teen girl.
If you or someone you love is struggling with depression, don't be afraid to reach out for help. Always consult with a health care professional about the best course of action, and keep in mind that there are hotlines you can call where people are available and happy to help in any way they can.