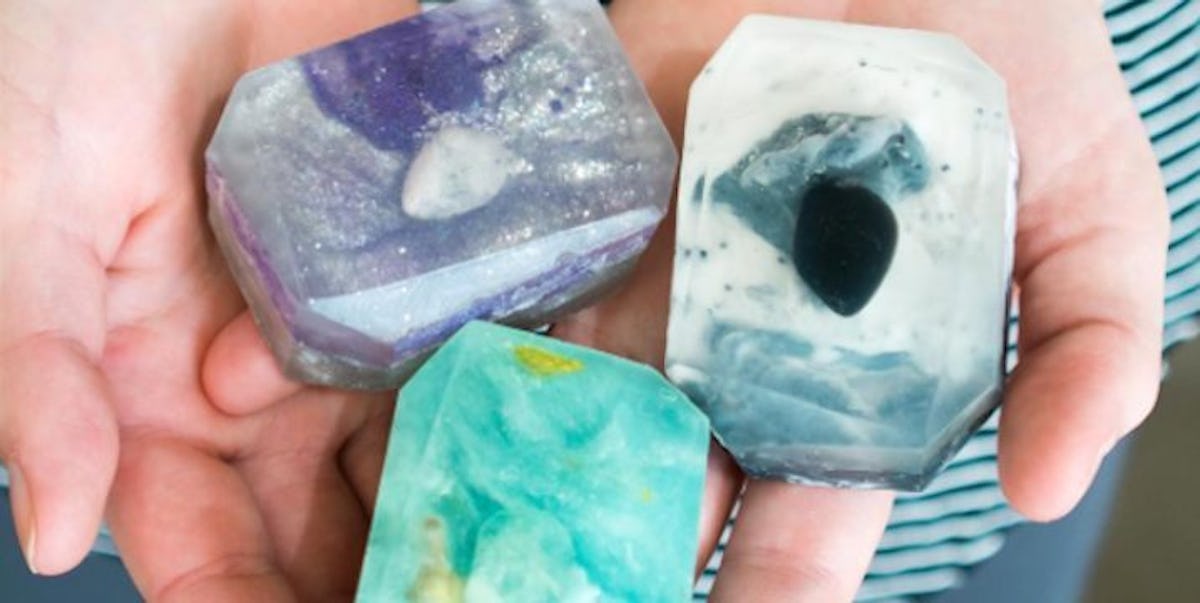 6 Spiritual Beauty Buys To Keep You Chill While 4 Planets Are In Retrograde
Instagram
If you haven't heard it out on these streets, the universe is coming to mess up your life in the worst way this month, with four planets going retrograde.
Those planets include:
1. Saturn, the planet of discipline
2. Pluto, the planet of death and transformation
3. Mercury, the planet of communication and technology
4. Venus, the planet of love and money
But knowing this fact alone will not protect you.
It's time to arm ourselves with more than knowledge. We need real tools to prep for this one, babies.
We need BEAUTY PRODUCTS because stress is the enemy of good-looking people, and you are ALL good-looking people, if I may say so myself.
So, here is the essential spiritual survival guide for the universal freight train that is headed straight for our collective peace of mind:
Apoterra Skincare Herbal Detoxifying Steam, $22, Spring
With Mercury going retrograde and the amount of day-to-day frustration that causes us, we're going to need to be able to stop and take a deep breath.
In order to avoid doing this with a cigarette in your mouth, we have a solution.
At-home herbal steams are relatively new to the beauty market, but it's hard to believe we've gone without them for so long.
Pour some hot water into your bathroom sink with Apoterra's herbal blend, throw a hand towel in there and place the warm towel over your face.
Take deep breath, and let out all that stress.
Crystal Bar Soaps, $6-10, Crystal Bar 
You can wash your body with soap, or you can wash it with the healing energy of crystals.
These vegan handmade bars from Crystal Bar Soaps include different gems, each with their own healing vibration.
Considering that Saturn retrograde will be challenging us all to do the right thing over the thing we really want to be doing, we'll need to remain balanced.
For that, I would suggest checking out the Essential Chakra Kit to keep all our energy centers aligned as we face our own worst fears and slay those dragons one at a time.
Lush Tisty Tosty Bath Bomb, $18, Amazon
While Venus, the planet of love, will be going direct in the next few days, some of us may be reeling from the relationship turmoil that this planet has put us through over the last month.
The stress-busting power of a steaming hot bath is an age-old cure, and the Tisty Tosty Bath Bomb (with its rose oil ingredients) will help to heal your broken heart.
Rose Quartz & Rose Body Balm, $55, Prismologie
Prismologie's body care line uses the transformative power of colors to enhance your mood.
With Pluto (the planet of death and transformation) going retrograde, we're going to need all the healthy, mood-altering substances we can find.
Pluto forces us to look at our shadow selves, to confront our demons and to embrace our darkness, so we're better able to step into the light.
This is never an easy process, and it can make us feel hopeless at times.
Prismologie's body care lines offer different color shades for different effects: yellow for confidence, white for clarity, red for vigor, green for serenity, blue for stillness and pink for comfort.
But with Pluto doing this number on us, I would suggest using the pink (for comfort) body balm, infused with arctic rose ingredients to elevate your endorphins, and rose quartz as an energetic reminder to love yourself.
Herbivore Brighten Instant Glow Mask, $48, Amazon
While we might be feeling a little drab on the inside, we don't need to look it on the outside.
Radiant skin is all the rage right now, and Herbivore Botanicals has caught on to the trend.
Its Brighten Instant Glow Mask includes pineapple enzymes (yum) to break down and exfoliate the outer layer of dead skin cells on your face for a more radiant look.
And of course, it wouldn't be the magical, spiritual beauty tool it is without including Brazilian white tourmaline gemstone in its mixture to naturally brighten the skin.
Unicorn Snot Lip Gloss, $9, Amazon
OK, so it might just be the name more than the ingredients, but Unicorn Snot Lip Gloss is funny, and anything that can keep us laughing over the next month is just what the doctor ordered.
Not to mention, laughing through glittery, kissable lips is a plus.
(I know, that was too cute. Very off-brand for me.)