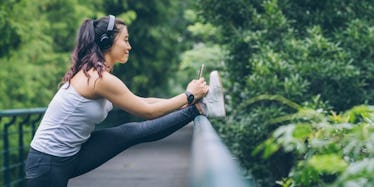 This Song Makes 65 Percent Of People Feel Less Stressed Immediately
Scientists are some of my favorite people on earth.
In laboratories across the world, smart people are doing research into how we can feel happier, be more relaxed and live longer.
Luckily for us, stress relief is as easy as popping in a pair of headphones.
According to a team from Mindlab International, the song "Weightless" by English band Marconi Union is the most relaxing song in the world. It's been shown to reduce stress by up to 65 percent.
That's certainly better than a bar of chocolate can do.
Though the actual study dates back to 2011, it's seeing a second wave of publicity. I'd say that may or may not be related to the stress levels we're all feeling given the impending presidential election.
Interestingly, Marconi Union made "Weightless" specifically with the aim of creating a spa-like treatment in a song. Working alongside sound therapists, the band crafted a melody that plays like therapy for your brain.
The song gradually slows from 60 to 50 beats per minute, taking into account the time needed for your heart rate to follow. There isn't a repeat melody in the song, either, which relaxes your brain because it doesn't need to worry about finding a pattern.
Dr David Lewis-Hodgson of Mindlab Internation told the Telegraph,
Brain imaging studies have shown that music works at a very deep level within the brain, stimulating not only those regions responsible for processing sound but also ones associated with emotions.
Inc points out "Weightless" is also available in 10-hour extended cut online, or in its 8-minute-long form on Spotify. Be careful where you're listening, though: The song is so relaxing it's actually dangerous to hear while behind the wheel.
In the meantime, thank Inc staffer Melanie Curtin for this downloadable version of all the most relaxing songs in the world. Happy snoozing.
Citations: Most Relaxing Song Recorded Reduces Anxiety (TeenVogue)