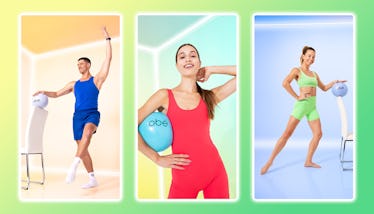 I Tried obé Fitness For Its 40% Discount — And Stayed For Its Emphasis On Being Kind To Your Body
The online fitness platform offers thousands of classes for all different abilities levels.
We may receive a portion of sales if you purchase a product through a link in this article.
It shouldn't be as difficult as it is to find group exercise offerings with positive messaging. When I'm in a workout class and the instructor mentions anything to do with swimsuit season readiness, all the motivation drains out of my body and I'm officially done. Add the fact that gym memberships are more expensive than ever, and navigating the fitness-industrial complex can feel like somewhat of a nightmare. obé Fitness is one class platform that seems focused on kindness and encouragement — and on top of that, it's currently offering a free trial and a steep discount on a one-year membership. This seemed like a good time to try it for myself, and I was legitimately impressed.
What Is obé Fitness?
obé is an online fitness platform with a wide array of live and pre-recorded classes you can take anytime, anywhere. You can access classes from the obé app or website and stream them on Chromecast or Apple TV.
In my own experience, I've tried a number of boutique fitness classes, from Barre to cycling and everything in between; I enjoyed everything I tried but haven't been able to justify class packs that cost hundreds of dollars. With obé, membership is normally $24.99 per month or $170 per year — and right now, you can get your first year for just $99.
My favorite part of the platform is its emphasis on movement as an act of self-care instead of self-harm, which is a positive and welcome change from so much of the usual messaging around exercise. From class offerings that range from five to 60 minutes long to the inclusion of modifications that accommodate different ability levels, it's clear that obé doesn't view movement as a "one size fits all" pursuit.
Bonus: If you want to sweat with your community, you can host a "workout party," which lets you virtually work out with up to eight of your favorite people at once (if they're not on obé, you can get them started with a 30-day guest pass).
What Kind Of Classes Can You Take With obé?
The offerings go way beyond your average cardio and strength training. For instance, if you love nothing more than lacing up your sneakers, you'll find guided runs that take you through training sessions and help boost your endurance. I've been training for a half marathon, so I made sure to check out the wide assortment of stretch classes for extra support. There are also classes in Barre, dance, strengthening, and restorative yoga — just to name a few. Since the classes come in a variety of lengths, I was usually able to squeeze in a 10-minute session before cooking dinner.
You can sign in for live classes (as I'm writing this, there are 12 live classes scheduled for today, ranging from boxing to beginner yoga) or search through the vast library of 10,000 pre-recorded classes; you're basically guaranteed to find something that fits the bill if you're looking to work out. I also love that you can filter class offerings by musical genre (in addition to other factors, like class length, workout type, and fitness level); I did, however, wish that there were more guided run options that focused on music, since I'm not usually motivated by the EDM beats that seem to be the default for this category. I'd also appreciate a wider variety of up-to-date song offerings, since at times the musical aspect felt like a bit of an afterthought.
obé's instructors are fitness professionals who almost seem to double as cheerleaders, encouraging you through your exercise journey from afar. Some of them are trained dancers, sharing the exercises that help them take care of their bodies through rigorous schedules. Others are certified personal trainers who have years of one-on-one experience. During live classes, instructors often read out attendee names, sharing positive messages and giving kudos for showing up. This helps add a sense of community to the programs (but you're not on camera, so there's no need to feel self-conscious about your moves).
One caveat: I did notice that most of obé's instructors tend to be about the same age, size, and physical ability. I think the platform could benefit from bringing on instructors who are fat, older, and disabled, since those demographics deserve much more representation in the fitness world than they're currently afforded.
Are There Class Offerings Beyond Physical Exercise?
There are — in fact, my favorite classes so far have been the meditation and breath work sessions, which can change the course of your morning in a matter of minutes. I've been incorporating these classes into my writing routine and finding that they help clear my mind and set me up for success. I do wish that the instructors mentioned more specifically what each type of yoga breath does within your body, but I've been appreciating and enjoying them regardless, finding these classes just as valuable as their more physically involved counterparts. obé also offers talks about all things wellness, from hydration and nutrition to positive mental health habits, helping to round out your fitness experience.
Do I Need To Be At A Specific Skill Level For obé Classes?
Nope! obé offers classes at levels ranging from beginner to advanced, and expecting parents can take pre- and post-natal classes that include pilates, yoga, and Barre. No matter which level you take, you'll find modifications that make each movement more accessible and clear instructions that help demystify moves that may be new to you. It's important to note that some classes do require props — like sliders, weights, and yoga blocks. But there are plenty of equipment-free classes that are just as fun and engaging (and you can filter classes based on your preferences here too).
This article was originally published on