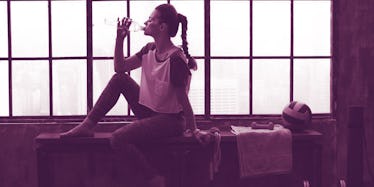 4 Ways New Moms Should Think About Weight Loss After Giving Birth
Shutterstock
I think I have referenced the "fourth trimester" in more than one post, and let me tell you, it's no joke. What an awesome, yet strange time for moms everywhere, both physically and mentally. Not only are you trying to learn how to take care of a tiny baby, but you are also trying to feel good in your own skin and stay sane at the same time.
Feeling good about yourself is so freaking important. I can't do anything when I feel badly about myself. I feel sluggish, lazy and unmotivated. I am a better mom when I recharge with physical fitness.
I'm just starting to get into that #fitmom life, post-baby. To be completely transparent, I lost around 70 percent of the weight I gained right away (within two weeks) of having my child Calvin. But from two weeks until now (nine weeks), I have literally not lost one more pound.
I'm not really concentrating on the scale or cutting calories, as I can't risk affecting my milk supply, but I did think those numbers were interesting. I thought it would be more gradual and continual over the course of several months. It reminded me how everyone's bodies are so different. I can already tell it's going to take a lot of hard work and even more patience to get back to where I started.
I've been physically active my whole life. I danced for 2o years, I've ran four half marathons, tried every fitness class in the book, started a corporate fitness bootcamp called "Sweat Suits," kept up with my high-intensity workouts until I was 20-weeks pregnant and just generally enjoyed working out.
Actually, I just enjoy the benefits of working out and being active. The second half of my pregnancy (20 weeks), plus the recovery time after (six weeks), is the longest I have probably ever gone with so little activity, so you can see why I'm longing to get back into my old habits.
Here is what I'm doing in order to get myself back into shape, post-baby, and what you can do, too:
1. Start Slow
I'm more of a zero to 100 type of person. Kind of like Calvin when he's hungry, if I get something in my head, I have to do it right then, all the way, no excuses.
I once ran a half marathon, rested for weeks and then decided I need to get back into it. So, I ran five miles of hills at once. I paid for that one later. I've done lots of stupid things like that. So this time, I'm starting slow.
For example, I've had to start with slow walking lunges before I can get back into jumping lunges, and I am walking before I begin to run. If I am too sore or tired to take care of my baby, it defeats the purpose of exercising in the first place. If you're too sore to work out the rest of the week, it also defeats the purpose.
2. Set Realistic Goals And Intentions
This one is huge. I've seen so many friends decide to start exercising and set goals such as, "I'm going to go to the gym every day," or "I'm going to give up carbs altogether starting tomorrow." No, you aren't. You're setting yourself up for failure, in the nicest way possible.
Start with a few days a week, and make them days you are actually likely to go to the gym. For example, don't say every week day if you know you aren't replacing Friday happy hours for the gym, or if the only thing you want to do on Fridays is get home to your family. (Don't we all?)
I always do a mix of strength training and cardio on days I go to the gym, but I'm setting a goal of doing this four out of seven days of every week, doing outdoor stroller walks or a home workout on the other days. This is all done with the intention of regaining strength, stamina and increasing my energy levels throughout the day.
I'm being realistic in the sense that I cannot go to the gym every day with a baby at home. I'm also not being too specific and strict about my regimen, as I want this to be a part of my life long-term instead of setting myself up for failure. In order to stay realistic, I will reset my goals and intentions after maternity leave when my schedule changes.
3. Don't Compare
Ah, the old "everyone looks better than me on social media" game. It's really easy to compare yourself to people on Instagram who likely only post the best or professionally taken photos of themselves. That's what Instagram is: a place to share your favorite photos. But, it's not necessarily reality.
It's also easy to compare yourself and your progress to people you know who might be going through the same things as you. Instead of comparing, we should use this as inspiration, create a community and support one another (especially as new moms).
4. Learn To Love The Process
And learn to love what a process it is. It's going to take time, dedication and patience to start seeing and feeling changes. Learn to mentally love this process of physically bettering yourself. If you know your family and overall quality of life will improve if you commit to your goals, what is there to lose?
I'm learning to love the process by knowing I'm doing the best I can, as often as I can. A small amount of exercise is better than no exercise. My body will likely never be the same again, and I'm honestly OK with that. My body is now responsible for another. Changes on the inside result in changes on the outside, and what a life-changing two months it has been.
Here's to committing fully, reaching your goals, comparing only to the person in the mirror and learning to love yourself all over again. Who's with me?
This article was originally published on the author's personal blog.