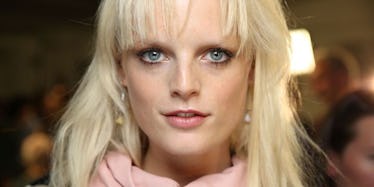 Model Hanne Gaby Odiele Discusses 'Traumatic' Surgery Intersex People Endure
REX/Shutterstock
At age 18, model Hanne Gaby Odiele – now 28 – was discovered at a Belgium music festival. Just eight years before that, she had her testes removed after doctors fed her parents misinformation.
Odiele, who has walked the runway for designers like Marc Jacobs, Rodarte and Thakoon, identifies as intersex, meaning she was born with XY chromosomes found in men and undescended, internal testes.
According to interACT, an estimated one in 2,000 births will produce an intersex child. Or, as Odiele says in her video for interACT, as often as redheaded children are born.
Many parents of intersex children are told these undescended testes have the potential to cause cancer, although there is little evidence that supports this. The genital reconstruction or removal surgeries have been slammed by many medical professionals as unnecessary and, according to Odiele and experts, "cause more harm than good."
The interACT website claims these surgeries "result in loss of sexual function, scarring, incontinence, loss of reproductive capacity and PTSD, among others."
Odiele has teamed up with interACT in order to shut down the stigma of intersex individuals.
Odiele told USA Today,
At this point, in this day and age, it should be perfectly all right to talk about this. It is very important to me in my life right now to break the taboo.
Are intersex people transgender?
The short answer is no.
According to the Intersex Society of North America, being transgender has more to do with personal sexual identity. This refers to someone who was born with male or female anatomy, but realized they do not identify with their biological sex.
Rather, people who are intersex have visible genitalia of the opposite sex or both sexes. This means it is a condition brought to their attention, rather than a differentiation in identity.
Are intersex people hermaphrodites?
The term "hermaphrodite" is actually a mythological term. It means one person is completely both sexes, which is impossible. According to Intersex Society of America, these terms are misleading.
The term hermaphrodite fails to represent intersex individuals and fails to acknowledge the human understanding of sex above a biological level.
By coming out as the first entertainer who identifies as intersex, Odiele hopes to help shatter the stigma, and above all else, help intersex individuals know they have an option when it comes to surgeries and treatments.