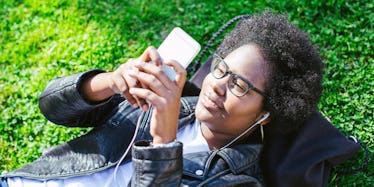 Science Says Your Instagram Addiction Can Actually Help You Lose Weight
Bonnin Studio
Who knew you could double tap your way to a thin bod?
OK, liking photos on Instagram isn't exactly what's helping you shed pounds, but your involvement in fitness and health communities might be.
A new study called "'Friending' Your Way Thin" found that people who actively participated in online diet-related communities lost more weight than those who didn't.
Researchers came to this conclusion by analyzing users' activity on dieting website Calorie King. Looking closely at the number of times users exchanged messages and shared stories about their weight, researchers discovered the signs of weight loss success.
Senior author of the study, Luis A. Nunes Amaral explains,
We found that the frequency with which you report your weight is a good indicator of positive outcomes. If you monitor your weight, you are engaged. If you communicate online with other people, you are even more engaged. And when you need support, you might be able to get it. There are some nice characteristics about this social network.
Basically, having an online community to report to and interact with replaces an IRL weight loss support group.
But you don't necessarily need to be commenting and posting updates to reap the benefits of a wellness online community.
Bonnie Spring, another author of the study, said that privacy is important to some users who don't want to make their journey public. This, of course, makes online communities and platforms like Instagram perfect for people who don't want to share weight loss updates or talk to other people. You can still get motivation by scrolling on your feed without necessarily interacting.
So, if you're Instagramming pictures of your food and liking other users' progress photos, you're doing yourself a favor. Your addiction is actually motivating you to keep going — even if you don't comment or make Instagram friends.
As someone who's totally addicted to Instagram and loves the health and wellness community, I can attest to this. I look forward to Instagramming my healthy (and sometimes unhealthy) meals -- #Foodgrams definitely inspire me to try different recipes, and I'm happy seeing body progress shots either because it means those users are proud of their journies.
So, if you have a weight loss goal you're trying to hit, keep double tapping and get involved in the Instagram community in whatever way you're comfortable with.
This social media validation is a dish best served in huge portions.