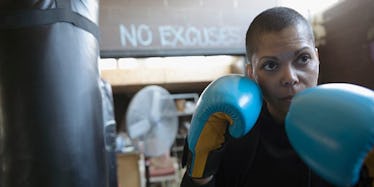 A New Study Figured Out The Perfect Way To Immerse Yourself In Your Workout Routine
Getty Images/Hero Images
You know how a run is just so much better when you're doing it outside, on a new trail, or in a new city? All the new sights and senses that are activated work together to distract you from any cardio-related discomfort you may have. Staying focused during exercise can be seriously challenging, but visual effects like the peaceful scenery you might encounter during an outdoor run can definitely make the whole experience a little more enjoyable -- and a new study can totally back that up.
The research, which was published in the Medicine & Science in Sports & Exercise journal, revealed that adding visual effects to your sweat sesh can help create a more immersive fitness experience. These visuals work by helping you feel more satisfied with your workout, and may even make newbies to the exercise game feel like they're exerting less effort.
When it comes to an immersive fitness class, think radical imagery and multicolored lighting projecting and bouncing off the walls.
While these cool visual and auditory effects may sound a little over-the-top, it's actually an excellent way to distract from the effort you exert during a workout, which is particularly ideal for anyone who's new to exercising.
In the study, one group of participants took an audio-only cycling class, and a second group participated in a fully immersive cycling workout experience called THE TRIP by Les Mills, which is essentially a virtual world with a floor-to-ceiling curved screen. The researchers measured exercise intensity, satisfaction, and perceived exertion, and compared the results between the two groups.
They found that the rate of perceived exertion (RPE) -- aka how intensely people felt they were exercising -- was noticeably greater for those in the audio-only class.
On the other hand, RPE was significantly lower for those who took the immersive spin class. Plus, fitness newbies reported even more satisfaction from the cool, cinematic workout experience.
So, whether you just signed up for your first workout class and you're worried about pushing through to the end, or you're simply looking to switch things up in your usual routine, this new immersive fitness trend might be right up your alley.
From an IMAX spin studio in Brooklyn, to a trippy yoga experience at Earth's Power Yoga in California, immersive fitness is becoming available for just about anyone to try.
Oh, but if you're not trying to break the bank and venture to a studio, you can still channel your inner craftiness to create your own immersive fitness experience. Pretty cool, right?
(I want an invite, though.)