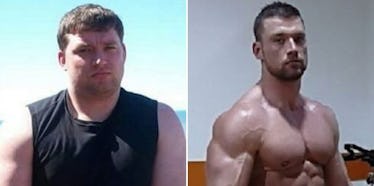 Obese Guy Gets Dumped By GF, Transforms His Body And Upgrades To Hot GF
Predator Nutrition
Rejection isn't an easy thing to handle.
Just ask the girl who rejected some guy on Tinder after their first date and freaked out when he rejected her right back.
Despite us humans fearing rejection, there are actually ways you can use it to your own advantage. Imagine being rejected by someone you love and using that awful feeling to change your life for the better.
That's exactly what Miro Judt did when he ex-girlfriend dumped him for being obese and unhealthy. According to Express, the 33-year-old man's 6-year relationship went down the drain after he ballooned up to 295 pounds.
Judt, from Wakefield, England, was said to have been constantly gorging on chips, soda, fast food and all kinds of sweets. After reaching a weight well over what is required to be considered obese, he decided it was time to turn his life around.
All his abrupt breakup did was shatter his heart and motive him to love himself more -- and so he did.
Miro Judt told reporters,
My long-term girlfriend leaving me was the real turning point. She was so dismissive of me and had no belief that I could lose the weight. I felt so hurt, but I decided there and then that I was going to change and to show her that I could do better and improve my physique.
The report states Judt started off by ditching his deadly diet, meaning no more of this crap...
Instead of the snacks, sodas and fast food, he opted for healthier foods like egg whites, chicken, fish, and Predator Nutrition protein shakes.
He then began speaking to bodybuilding experts who gave him valuable advice on how to transform his body for the better. After several months, Miro Judt, who works at a warehouse, began to see positive results.
He was able to drop nearly 90 pounds and strip down the excess fat to solid muscle instead.
Did I mention his physique wasn't the only thing he upgraded after being dumped by his ex? He met a gorgeous model named Victoria Wilson while using a dating website in hopes of finding true love once again.
She is now his new girlfriend. So far, they've lived together for over a year, and they couldn't be happier together.
They've already got marriage on their minds.
Meeting Victoria was the best thing that ever happened to me, and she has really given me my confidence back. We've even started hitting the gym together, and always help each other to make sure we are both sticking to our diets.
Now, I know what you're thinking: Is she just with him because of the way he looks? It wouldn't be impossible. Think about it: She never really saw what he looked like when he was at his worst.
It turns out Miro Judt is completely aware of the real reason his new girl is with him.
I know that the reason Victoria got with me is because of my physique, but we have been together for a long time now and I know that is because she loves me for who I am. For me she is the one, and my hope is that one day we will get married. When I'm with her, I know that all this hard work to lose the weight really was worth it. If my ex-girlfriend can see me now, I hope she'll realize what she is missing out on.
Damn, well it sounds like this guy doesn't care whether his new girl is with him just because of his body. He's never looking back to his old life.
While it sucks that his first relationship was a failure due to his stubbornly unhealthy lifestyle, sometimes you need to sacrifice your love life for your self-love life!
I guess the whole "revenge body" thing really does exist. Khloé Kardashian would be proud.
Citations: Obese Dude Dumped By His Girlfriend For Gaining Weight Gets Absolutely Shredded And Upgrades His Girl (BroBible)