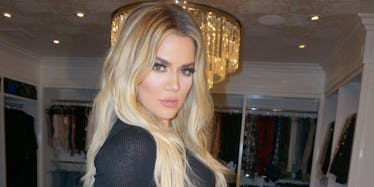 Khloé K Opens Up About Her 'Goal' Weight And Working Out: 'It's For My Sanity'
I
With the upcoming premiere of Khloé Kardashian's new reality show "Revenge Body" just days away, you have to wonder -- what exactly inspired the 32-year-old star to get her "revenge?"
If you're familiar with the concept of the show, you know Khloé will work with various contestants to help them achieve the body goals of their dreams as well as the unbreakable confidence to stay focused.
Basically, Khloé wants everyone to look at you like this.
During a clip for the new E! reality show series, Khloé is asked about who might've inspired her to get her "revenge." The star revealed,
No, for me it wasn't one person. For me it's getting revenge just on my life. I feel like the older I'm getting, I feel like I get better and better and I do think I look younger and I feel better than I did five years ago.
While Khloé may not be getting back at one of her ex-boyfriends, ex-husbands or a bully who might've taunted her growing up, the contestants on the show have their own reasons.
The clip below features some of those reasons.
Khloé added,
People like to assume my revenge was on someone but it's not—it was really even just everyone who called me 'fat' or I'm the 'fat sister' or this or that. But I didn't seek that out intentionally, mine was a byproduct of me really trying to just de-stress myself and as a side effect I was like, 'Wow!' I started losing weight.
Prior to opening up about the inspiration behind the show, the Kardashian sister admitted she isn't at her "goal weight" despite her immense effort to get in perfect shape.
However, she says she feels "great" and will continue to work toward her dream body,
I feel great, but I believe that this is a lifestyle. This is a way of life, I'm gonna work out at least three days a week for the rest of my life. It's for health and it's for my sanity, it's for my mental clarity, that's why I enjoy working out.
In addition to their preexisting inspirations, the "Revenge Body" contestants have to be pretty motivated by Khloé's outlook on the demanding lifestyle.
Although she has her own show in addition to all of the resources needed to obtain physical perfection, she recognizes she still has plenty of work to do.
You can catch the premiere of E!'s "Revenge Body with Khloé Kardashian" on January 12 at 8 pm EST.
Check out the clip above.
Citations: Khloe Kardashian Says She's Not at Her ''Goal'' Weight, But Will Continue to Work Out 3 Days a Week for Her ''Sanity'' (E! News)