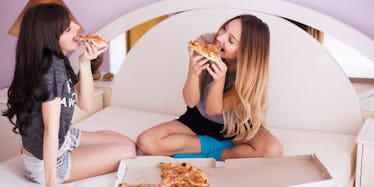 6 Food Hacks To Lose Those Extra Pounds While Growing Your Bank Account
When I first moved out, I found the convenience of the cafeteria or nearby fast food restaurants to be welcoming to my credit cards.
Eventually, I realized my body was feeling sluggish with the garbage I was constantly feeding it, and my bank account was taking a hit.
I started cooking my own meals and found myself wasting a lot of time making one meal or getting bored of the four things I actually knew how to make.
So instead, I had to find easy tricks to minimize how how much I eat out, and it's truly benefited both my waistline and my wallet.
1. Get more meals out of everything you cook.
If you're living by yourself, turning the oven on to make individual dishes may seem like a waste of time.
The easy solution to this is to make more of whatever meal you may be making (stuffed peppers, chicken parmesan, potato wedges, etc.).
Adding one more pepper or chicken breast will likely only take you 30 seconds to add to the pan, whereas making them individually every time can take 30 minutes.
2. Meal prep.
You may not want to have chicken parmesan every night, so why not think of other ways to use the chicken?
You can cook some bare or differently seasoned chicken right alongside your gourmet chicken parmesan. You can then cut the chicken into smaller slices to be used in a salad, keep them whole and put it on a ciabatta bun for a sandwich or save it for a stew.
The point is, it saves a lot of time if the food is already cooked, so you just have to warm it up in the microwave.
Be sure you're not overcooking. Realistically, two to three pieces of the same meat should be sufficient to get you through the week.
If you overcook, you run the risk of having the food go bad. When that happens, you are essentially throwing your money in the trash.
3. Make it visually appealing.
I got into the habit of using mason jars to hold my meals. They're aesthetically appealing and can be better for salads to avoid soggy lettuce.
Mason jars can be used for virtually anything, but some common uses are: yogurt parfaits, fruit salads, vegetable salads (put the dressing on the bottom and separate it from the lettuce by using your other veggies, so your lettuce stays crisp) and pasta.
4. Grocery shop bi-weekly.
It may seem tedious, but going grocery shopping at the start and middle of the week can help ensure your food is fresh. It's amazing the difference in taste fresh food has.
Plus, if you anticipate going shopping mid-week, you know you'll want to eat up as many fruits and veggies as you can to make the trip worthwhile. This alone can help you eat healthier.
5. Bring, don't buy, your meals.
When you're doubling your dishes, think about making some sweets for yourself since you already have the oven on. This can help save you from caving into cravings and ordering food you don't need.
It's okay to treat yourself in moderation -- it can help reduce those junk food binges. Bring your water bottle, a thermos with tea and a juice box to your study session or office to give you options while staying hydrated.
Bring your own lunches and dinners if you have lectures where you're usually hungry to keep your body nourished and at its peak performance.
6. Frequent Pinterest to get ideas.
Honestly, go onto Pinterest and search "healthy meals for one" or "easy meals for beginners." The possibilities are endless.
I found some of my favorite recipes (balsamic chicken and baked carrots and potatoes) on Pinterest and they really are easy to make, but never fail to impress my guests.
Adding variety to your meals is so easy to do when you start thinking of different ways to use one particular item.
Theses strategies have helped me save money, all while improving my overall mood and health.
**This post was originally published on Unwritten.