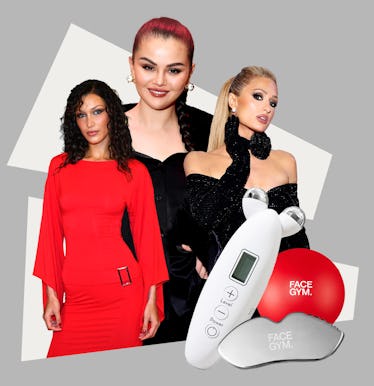 I Tried FaceGym & My Skin Has Never Looked Better
No wonder it's beloved by the likes of Selena Gomez and Bella Hadid.
We may receive a portion of sales if you purchase a product through a link in this article.
When it's time to head to the gym, you typically choose to target your arms, legs, abs, or consider a full-body workout. But, despite the name, a full-body workout usually leaves out one key feature that you can't really exercise with the help of your Equinox membership: your face. Fortunately, there's one brand whose purpose is to focus on just that. With over 350 million views on TikTok, FaceGym's viral treatments and products have become well-known for providing a service you can't really get anywhere else — a workout that only targets your face. As someone who's always on the hunt for the next best skin care treatment, I tried FaceGym to see whether it was worth the hype (and price).
Booking a treatment with FaceGym (starting at $125) gives you exactly what the name implies: a gym-quality workout for all the muscles in your face. Courtesy of the brand's estheticians — or, as they're properly called, trainers — your moneymaker will undergo a unique combination of massaging techniques, equipment, and products that are meant for sculpted and smoothed finishes.
The facial treatments feature mild tools shaped like bouncy yoga balls all the way to advanced skin tech that sends shock waves through your face, so like a traditional exercise session, it's not always comfortable. This means that you shouldn't expect to get the type of relaxing facials you may be used to.
With celebs like Selena Gomez, Bella Hadid, and Paris Hilton using FaceGym before big red carpet-events, it has to leave you snatched, right?
Below, you'll find my honest review of FaceGym's Cryo Contour workout ($230), claimed as the celebrity fave by the brand. (Let me tell you right now, it's not for the faint of heart.)
FaceGym's Cryo Contour Workout Can Be Intimidating
This beyond-facial is meant to provide intense hydration, brighten your complexion, and smooth out your skin's texture all while boosting the production of collagen and promoting the revitalization of skin cells. The after-effect is supposed to be skin that looks incredibly moisturized with a visibly smoother texture. The appointment lasts 55 minutes, including 10 minutes of consultation. Here's a breakdown of the celeb-approved facial treatment:
Step 1: The Warm-Up
The treatment begins as any facial treatment does, with a facial cleanse. Using the FaceGym Electro-lite Gel Cleanser, my trainer, Gianna, gently cleansed my face to make sure that it was clean before going in with any other products or tools. The cleanse was followed by a warm towel to remove the suds and then the workout warm-up began. Using a FaceGym ball, a literal small bouncy ball, the skin on my face was pulled to stretch my facial muscles, just as you stretch in preparation to go on a run or to lift weights. This was not painful or uncomfortable, but it definitely was an unusual feeling to have my face pulled in every direction.
Step 2: Cryo Contour Cool Down
While the cryo contour is usually reserved for the last step of the treatment, my trainer recommended that it come second since the gel used under the cryotherapy tool leaves a very sticky residue, which would be annoying to have on your face as you go about the rest of your day. The tool is used to deeply penetrate the skin with oxygen and hyaluronic acid at high pressure.
According to Dr. Azza Halim of Azza MD, "Hyaluronic acid holds and binds water to the skin, which is why when coupled with FaceGym it enhances the absorption for improved skin hydration and plumping of fine lines."
This is what really promotes intense hydration and skin smoothing to rid your face of any wrinkles and fine lines. It feels incredibly cold and cooling while it's applied and creates a very prickly sensation on the skin that did, at first, feel uncomfortable and a bit painful, but by the end of the treatment my skin got used to it. My face was really red with the marks from the machine being visible along my neck, but there was no pain once the machine was no longer used and the redness faded quickly.
My trainer finished by using the Multi-Sculpt High-Performance Contouring Tool in combination with gua sha techniques for contour enhancement. "Any treatment that enhances absorption of a product or allows better penetration is definitely helpful," Dr. Halim tells Elite Daily. "Cryofacial is different as it is based on freezing the skin in order to tighten skin, smooth fine lines and improve circulation. Few sessions are needed for long-term results. It can also be used to reduce double chin and help cellulite as one can freeze fat as well."
Step 3: Cardio
The intensity continued with the cardio portion of the workout. After slathering my face in the Face Coach Facial Oil, my face was definitely whipped into shape with the brand's facial whipping technique, which is not as painful as it sounds. The whipping motion used fast movements, made by my trainer's fingers, that whipped the skin around my jaw and cheeks upward. This increases blood flow and movement that promotes the drainage of the lymphatic system to carry away any congestion and waste build-up away from these tissues. This basically creates the ultimate face sculpt and reduces any puffiness or bloating.
Step 4: Sculpting
She continued sculpting my face with a deeper facial massage, but went even further with the Pure Lift Facial Toning Device. This machine is used to send an electric muscle stimulation (EMS) current through your face. It was definitely the most intense part of the workout. I mean, you try sitting through an electric current running through your face for several minutes. It radiates into the shoulders, neck, and scalp, so I was quite literally having very noticeable shoulder twitches and could feel the skin on my scalp moving. The goal of this product is to really define your face and contour muscles for a toned look. She finished by applying the Active Blast Collagen Skin Serum and the Lifewear Gel Moisturizer.
"Collagen induction needs a multimodal approach when it comes to skin as we need to stimulate neocollagenesis via growth factors and energy-based devices," Dr. Halim says. "Applying a collagen serum won't hurt when applied topically, but definitely works better if can penetrate the staring corneum of the skin."
My Skin Post-FaceGym: 10 Out Of 10
My skin has honestly never looked better. I didn't notice any extreme difference in terms of sculpting, but I did feel less puffy in my face, which was amazing. The major difference I noticed and the major selling point of the treatment was the hydration. I don't think my skin has ever looked so moisturized. It was super duper soft and had a beautiful and bright sheen to it. This carried on in the few days after the treatment as well. My complexion felt so smooth and I even got compliments on how bright and radiant it looked.
Jordan Murray/Elite Daily
Jordan Murray/Elite Daily
The treatment is incredibly expensive to be doing on a regular basis, but if you ever have the chance to treat yourself or you're really trying to get your skin in shape for a big event, I highly recommend taking a trip to FaceGym. FaceGym recommends coming in either every two weeks or once a month and to prolong the results apply the FaceGym personalized recommendations in between sessions.
Dr. Halim recommends even more workouts. "FaceGym is a system that requires consistency as do all treatments, but this needs weekly sessions," she says. "It is also more for instant gratification whereas medical grade in-office treatments are immediate as well as cumulative long-term results."
Know Before You Go
As for any risks, Dr. Halim says, "There hasn't been any scientific evidence to back up nor refute the claims, but there is the hypothesis that excessive movement may contribute to wrinkles and laxity therefore that would intuitively contradict facial exercises whereas some tout facial yoga to tighten face muscles and skin."
No FaceGym near you? No problem. The brand also sells its tools and products online so you can recreate the workouts in the comfort of your own home.
Expert cited:
Dr. Azza Halim, physician and founder of Azza MD