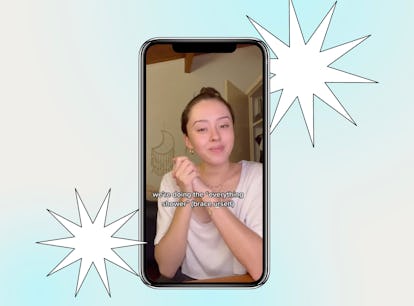 I Tried TikTok's Everything Shower With A Derm-Approved Routine
The time crunch made it more stressful than relaxing.
We may receive a portion of sales if you purchase a product through a link in this article.
Taking an "everything shower" is a popular self-care trend on TikTok that's exactly what it sounds like — you do everything from hair masks to body scrubs during the course of one shower. Since you're shaving, exfoliating, and hydrating all at once, the experience can take hours, and the trend is back on the FYP with TikTokers wondering how long the ideal everything shower should be and the best order for products. When I was influenced to try the trend myself, I tapped board-certified dermatologist Dr. Tiffany Libby to understand how to do the best everything shower, as well as if it's actually beneficial for your skin and hair.
Surprisingly, the main benefits of an everything shower are mental, Dr. Libby said, as prioritizing self-care can have a positive impact on your mental health. Since you don't necessarily have the time each day to check off everything in your self-care and skin care routine, an everything shower is the ultimate treat-your-self experience.
Some people block off hours for this, but Dr. Libby says there's definitely something as too much of a good thing when it comes to the trend — she recommends keeping your shower under 10 minutes to avoid drying out your skin.
A 10-minute shower is how long some people bathe regularly, so this may be surprising. It definitely doesn't leave a lot of time for you to fit every single step into your routine, which is why Dr. Libby suggests planning an everything shower more frequently — two to three times a week — to reap the maximum benefits.
First of all, prolonged exposure to water can "dry out skin by stripping the good, healthy oils." Secondly, if you're doing a full routine each day, "there will absolutely be more irritation and harm done than good." You want to space out your self-care so it's as effective as possible. Dr. Libby recommends washing your hair two to three times a week, and doing "a hair mask and lip or body scrub" once or twice.
My First Everything Shower Experience Order Was Basic
There is some debate on the proper order of an everything shower on TikTok, but Dr. Libby says there is no right order. Just as long as you're cleansing before moisturizing, you should be good. For a basic everything shower routine, cleanse before masks and scrubs and finish off with your moisturizers.
Going off of this, here is the everything shower order I went in:
Shampoo
Conditioner
Body Wash
Face Cleanser
Body Scrub
Lip Scrub
Shave
Moisturizer
I also applied a hair serum and dry brushed my body prior to jumping into shower, and followed my full skin care routine once I got out of the shower.
I Added Exfoliating Products To My Everything Shower
Everyone's hair and skin needs are different, but I asked Dr. Libby for recommendations on products to use during an everything shower. She suggested, "For those with body acne, I like the practice of lathering on PanOxyl Acne Foaming Wash Benzoyl Peroxide 10%." She likes to leave this on any areas that are prone to acne for about five minutes, while following the rest of your everything shower routine. According to Dr. Libby, "It is also great for reducing body odor when applied in this way, as sweat naturally does not cause odor but when mixed with bacteria, it can generate odor."
The one thing from Dr. Libby's recommendations I was missing in my routine was a hair mask. I have oily hairy, so I used Verb's Ghost Exfoliating Scalp Nectar serum, which is great for removing product buildup.
Dr. Libby recommends the SpoiledChild S24 Rapid Recovery Hair Mask if you are looking for a quick five-minute hair mask to add to your everything shower routine that "helps reduce breakage and strengthen and repair damaged hair."
My Dermatologist-Approved Everything Shower Review
At first, I was surprised at how simple Dr. Libby's everything shower routine was. Aside from the scrubs, this was basically my go-to shower routine. However, when given only 10 minutes to do everything, the routine seemed impossible. To make sure I stayed within my given timeframe, I put on the 10-minute version of Taylor Swift's "All Too Well." This was the first time I've ever felt stressed listening to the song.
The goal of an everything shower is to relax, and it was hard to lean into the self-care aspect as I was trying to rush through shaving my legs while washing off a body scrub. I think if you really want to have an at-home spa day of using a ton of products, take advantage of your time before and after the shower. It may be called an everything shower, but that includes everything in your self-care routine. You don't have to be physically getting wet the whole time.
For instance, you can keep your moisturizer in the shower with you to apply right after shutting off the water. I usually add body lotion or cream after I get out and towel dry myself, but Dr. Libby said the ideal time to apply lotion is when your skin is damp and it's able to "soak into the skin and seal in water content." I would also recommend dry brushing before jumping in the shower if you don't think you'll have time for a scrub. If you are planning to space out your everything showers, use your body scrub on a day you're not washing your hair. Hopefully, all of this will make your everything shower more relaxing and less of a mission impossible situation.
My First Everything Shower Experience Was Stressful
If I were to judge my everything shower experience on a self-care scale of 1 to 10, I would probably give it a 5. I did enjoy adding some extra steps into my shower routine, but ultimately, the time was a huge stressor. I made sure I was able to rinse everything out of my hair, which took the most time and I ended up doing a terrible job at shaving. I also think I overused products towards the end because I was in a rush and just throwing things on.
It wasn't a complete failure, though. I think applying moisturizer in the shower while your skin is still wet was something I'll continue doing. My body felt super smooth the rest of the day, and because of my exfoliating serum, my hair was clean and refreshed and had some extra volume.
Expert Sources Cited:
Dr. Tiffany Libby, MD, a board-certified dermatologist