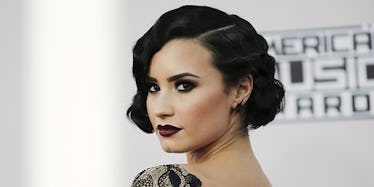 8 Demi Lovato Quotes That Will Support You During National Recovery Month
REUTERS
At the Democratic National Convention in July, Demi Lovato took center stage to raise awareness about mental illness with a touching and inspirational speech.
She said,
Like millions of Americans, I am living with mental illness. But I am lucky. I had the resources and support to get treatment at a top facility. Unfortunately, too many Americans from all walks of life don't get help, either because they fear the stigma or cannot afford treatment. Untreated mental illness can lead to devastating consequences, including suicide, substance abuse and long-term medical issues. We can do better. Every one of us can make a difference. By getting educated on this epidemic and its frightening statistics, and by breaking the stigma, I urge every politician to support laws that will provide access to better health care and support for everyone.
As a long-time fan of Demi Lovato, I've watched her rise and fall to fame. I've supported her through rehabilitation, and admired her advocacy and honesty toward mental health.
I never fully understood the effects of anxiety and depression until I experienced it for myself for extended lengths of time.
I was always the girl who had her life together. I had always been five steps ahead, so it was hard for my loved ones to witness such a downfall and it was even harder to admit it to myself.
It's difficult to talk about the constant dark cloud over your head when there's an even bigger and darker cloud over the subject itself.  It's often embarrassing (and even terrifying) to admit that you struggle with these issues on a daily basis.
Whenever I'm feeling down, I like to read Demi Lovato's "Staying Strong: 365 Days a Year." It's a book of quotes she published after her release from rehab.
In celebration of National Recovery Month in September, here are a few quotes from Demi herself that you can bookmark for those hard times:
1. "The best advice I can give to anyone going through a rough patch is to never be afraid to ask for help."
Whenever I feel hopeless (or even reckless), I talk to a friend who can calm me down and stop me from doing anything dangerous.
Oftentimes, I'm afraid to talk to anyone I know about it, so I have an online therapist who's always there for me at the click of a button.
Anyone going through a tough time should always know they have someone there to help them, whether it is friends, family, a therapist or even a stranger.
Before I decided to get a regular therapist, I tried 7 Cups of Tea, a free online community willing to lend an ear.
2. "There's no point to living life unless you make history, and the best way to make history is to help others."
As a writer, I see a lot of myself in Demi. I pull all of my pain and suffering into my art in the hope that it will help others through the same journey. Nothing feels better than receiving a message from a reader, thanking me for writing my stories.
Your stories are yours to be written, not judged.
I used to worry about hurting others through my writing and it has happened before.
But it's also helped my mental state in the long run. These are my stories, and all of them are true. If you're not happy with what I've written about you, I'm sorry you feel that way.
But I'm not sorry that I wrote the truth.
3. "Love yourself and treat yourself as you would treat your very best friend. You deserve the same love you give to others."
This is one thing I have to remind myself every day. Those in suffering often put themselves last to everyone else.
Many times I find myself helping my best friends having a rough day before helping myself after a rough few months. You need to remember that you are your own best friend and you are the only person to give yourself the happiness you need and deserve.
4. "Be who you are and don't allow anyone to affect the confidence you have in your individuality."
Sometimes people leave because they're afraid of dealing with who you really are. In reality, you are too big and too extraordinary for them. Those who truly love and deserve you will stay in the end.
5. "Go where you are wanted and stray from where you aren't. Surround yourself with positive people and environments."
I've learned the hard way that it's a waste of time chasing those who don't want you. Remember you friends and family who never left and never will leave. These are the people you should surround yourself with. Stick with those who celebrate you, not judge you.
6. "Change the negative, self-loathing thoughts to positive, self-affirming ones. When you're positive about yourself and everything around you, you begin to see the world in a different light. Your life today is what you make of it."
I've learned to cultivate positivity into my everyday life by reading affirmations day and night. For some it could be reading books of quotations like Demi Lovato's or saving images on Pinterest.
I start and end each day with a series of positive quotes to ensure my mind is in the right place. It's easy to stay in the dark but incredibly difficult to get out of it. Start now.
7. "The next time you are worrying about something, try to remember that you aren't always in control. Instead, do practical things like make a budget or create a schedule. Be proactive and let go of the stress. After all, it won't change a thing."
I've recently started a bullet journal -- it not only keeps me productive and on task for work, but it's a daily reminder of what I can accomplish every day. Even if it's just little things like taking the trash out or walking the dog. Do something instead of worrying about things you shouldn't be worrying about.
8. "Never be ashamed of what you feel. You have the right to feel any emotion that you want and to do what makes you happy."
After a bad breakup, I felt extreme pressure from the people closest to me to move on as quickly as possible. It put me in the position of believing something was wrong with me when I couldn't move on months later.
Eventually I found myself faking a smile every day around my loved ones to reassure them, which only made me feel worse.
Do not put a timeline on your grief. You are allowed to grieve as long as you need to. Holding it in only makes things worse and depression even harder to fight.
You cannot tell people they're not allowed mourn when there are worse things happening in the world. You cannot tell them it's selfish to feel sad about a broken relationship when someone else in the world may be starving or fighting a terminal illness.
Mental illness when not treated or accepted can be fatal as well.
We all have our own battles and you'll never know what someone is going through.
Demi Lovato continues to remind us that mental illness is more common than we think and the weakness you feel doesn't make you weak at all, but wonderfully human, beautiful, and strong.