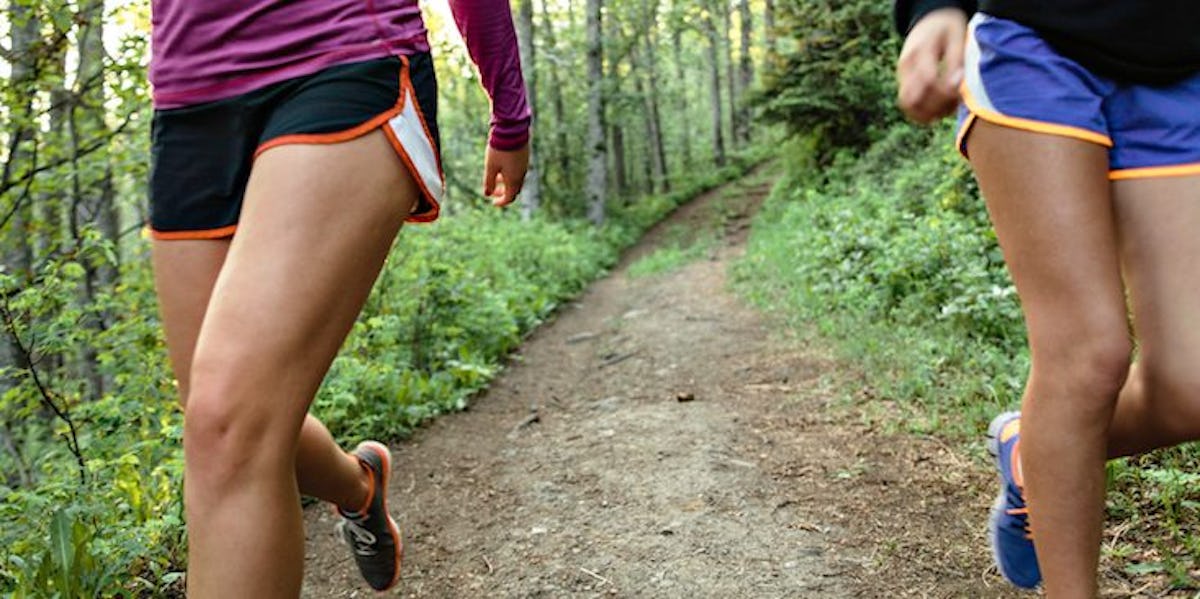 6 Running Shorts That Are So Comfy You'll Basically Want To Live In Them
When I lace up my shoes and decide to go for a run, it can end in one of two ways: hating every minute and feeling like an out-of-shape, profusely sweaty platypus, or experiencing that incredible runners' high and relishing the endorphins for days after the fact. Either way, the right pair of running shorts are absolutely essential to any successful sprint. Between chafing, camel toes, and weird-ass wedgies, there's too much room for error, and no one has time for that.
Running shorts, above all, should be comfortable AF, and by no means should you have to dig out the fabric from your butt cheeks every two minutes.
Here are six pairs of running shorts that are so comfy, you'll never want to take them off.
1. Patagonia Paradise
Patagonia Women's Strider Shorts, $31, Patagonia
The minute I read "chafe-free comfort," I was sold.
These two-toned Patagonias need to be on my body, like, yesterday.
I'd probably sign up for a half-marathon if I could run it in these bad boys (I said probably, OK?).
2. Classic Pros
Nike Women's 3'' Pro Cool Compression Shorts, $28, Nike
Everyone and their mother has a pair of these, but that's only because they're so worth it.
TBH, I'm guilty of wearing these to work out, sleeping in them, and then wearing them again the next day, because I'm gross like that.
I don't recommend my own gross habits for you, but in case you had any doubts, the comfort is actually that next-level awesome.
Bless you, Nike.
3. Crunch And Burn Comfort
Oakley Womens Crunch And Burn 2.0 Short, $50, Amazon
That thick waistband, though -- one of my personal pet peeves is an elastic band in my running shorts that feels like it's just slicing into my stomach and cutting off my circulation.
Oakley's got you covered with a comfortable waistband and fabric that absorbs sweat immediately to prevent any annoying slippage while you run.
Ain't nobody got time to pick their shorts up every 30 seconds while they're pounding the pavement.
4. Oh So Fly
UA Fly-By, $25, Under Armour
Lightweight, ultra breathable, and a relaxed fit?
Under Armour basically provides you with the trifecta of comfort.
I'll take one in every color, please.
5. Flexing Freedom
Nike Flex Rival, $50, Nike
These Nikes allow you to move freely and effortlessly from the beginning of your sweat sesh all the way through to the end.
Your not-so-cute camel toe will feel like ancient history in these stylishly airy shorts.
6. Lulu Luxury
Speed Short, $58, Lulu Lemon
Oh LuLu, how I love you.
The four-way stretch fabric on these babies will basically feel like a pillow for your waist.
Oh, and that back zipper pocket for storing your keys and ID? Total game-changer, amirite?