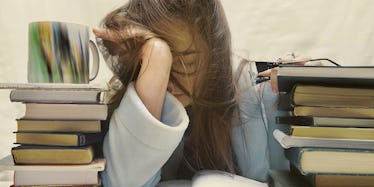 4 Ways Colleges Are Failing Their Students' Mental Health And Wellness
Shutterstock
I always had a love-hate relationship with the start of a new semester.
Getting back to campus meant getting back to silly theme parties, long talks with my gem of a roommate, glimpses of my crush down the hall and Tuesday trivia night at my campus bar.
But getting back to campus also meant staring across the vast, arid desert of classes, exams, papers, extracurriculars, work and being away from my too-closely-knit family. It meant another couple months of pushing myself to make it out on the other side, gasping for air.
I got through college largely because I was lucky to have strong mental health and financial stability.
College is a place of learning and shouldn't be a walk in the park, but institutions can make it a lot more difficult than it should be, especially when students have more stressors than just the next problem set.
Here are some of the major ways colleges are failing their students' mental health and wellness:
1. Mental health care is insufficient on many campuses.
Rates of mental health issues on campus have risen in recent years. Whether this is because more cases are actually occurring or because the stigma on mental health is lessening (so more students feel comfortable coming forward), many schools' psychological services are seeing higher demand.
Campus mental health centers are struggling to reach the need of students, the New York Times reported last year. Many don't have enough full-time counselors or physical space for the students.
At my college, there was a morbid joke that unless you walked into the psychological services center and said you were going to commit suicide that day, you wouldn't get an appointment for two weeks.
This wait time -- whether it's a couple days or a few weeks -- can become a big problem for a student seeking help for anxiety or stress over an upcoming exam or deadline.
2. Mental health leaves of absence are often mishandled.
Every year, some students recognize it would be better for them to take time off. Mental health issues require proper treatment, and stressful campus environments are not exactly helpful for improvement.
Sometimes, though, students don't choose to take a leave of absence -- they're made to by their schools, as the Huffington Post reported.
Schools' mental health leave policies can also force students to take a leave for a certain amount of time -- like a full year rather than a semester -- which may not be necessary or beneficial for each student on leave.
And schools frequently make it difficult for students to return to campus, as BuzzFeed investigated.
There are many seemingly small bureaucratic requirements that can make readmission nearly impossible. For example, an in-person assessment can be prohibitively expensive for someone living far from the school, as the Columbia Spectator explained.
3. Schools don't have proper support for first-generation and low-income students.
There's a lot more to be said about what's wrong with financial aid than can fit into this little section within a larger article, but we can hit some quick points.
While financial aid will cover some costs, it doesn't cover everything -- like textbooks, for example. Low income students also may not be able to meet costs of having friends -- from Starbucks to birthday dinners to club cover charges -- which can cause humiliation and damaging isolation.
Students may be required to do work-study jobs, which take away time that could be spent studying, at office hours or simply relaxing. This increases stress and anxiety.
First-generation students can face different challenges as the first in their family to go to college.
To their credit, some schools are working to address these problems. At the University of Texas, for example, there's a simple program in place to support first-generation students, who often have lower rates of graduation, as the New York Times reported.
But many other schools don't take the specific challenges first-generation students face into consideration. Students (and their families) are treated like they should already know how colleges work, thanks to guidance from college-educated parents. That's just not a reality.
First-generation and low-income students need different types of support, especially in making the first semester transition to college, but many colleges simply do not acknowledge that.
4. Administrators don't listen to students.
It's easy for administrators to think everything is fine when they're removed from the day-to-day reality of being a student.
Students voice concerns that are often not responded to by schools. That's what causes the protests we see on campuses -- students have to force their schools to recognize their complaints as legitimate.
This ranges from discriminatory campus environments to the mishandling of sexual assault, all of which affect mental health and wellness.
Administrators need to take students seriously and pay attention when they say something is wrong. That's the only way schools can improve their handling of mental wellness to keep their students healthy and safe.
There's a lot schools can do to improve students' well-being.
But until they take the time to come up with proper solutions, students are often left to look out for themselves and each other.
This semester, make sure you take the time to take care of yourself and your friends -- and I know, I know, I'm giving you yet another responsibility to take on.
But I promise you, this one is worth it.