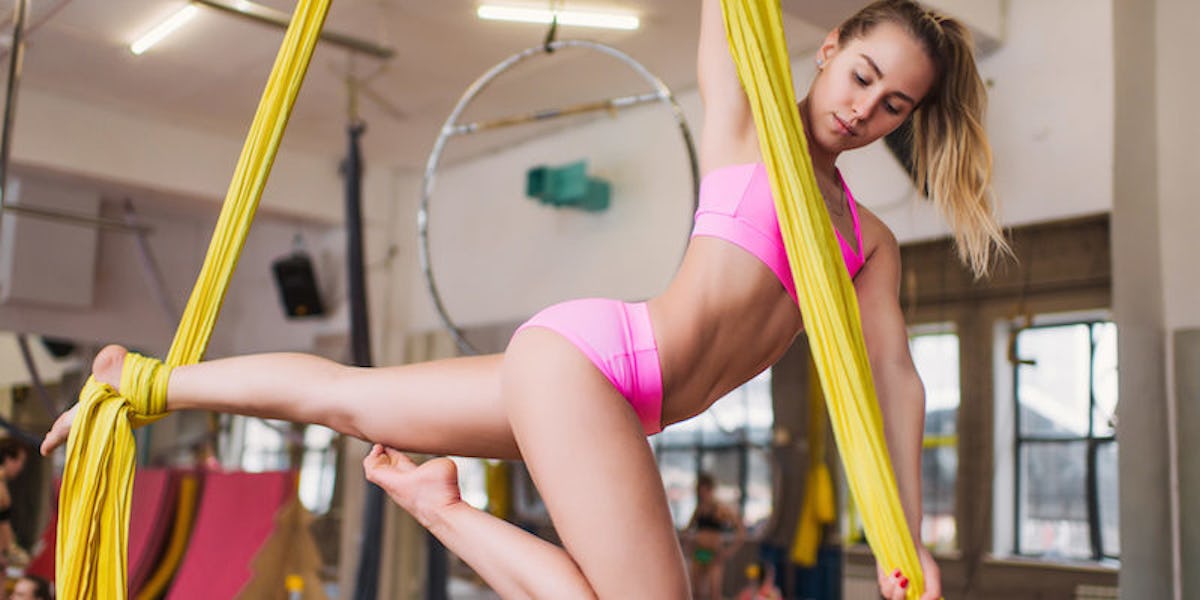 Why Circus Training Is The Most Fun Workout You've Never Heard Of
Shutterstock
I didn't exactly run away and join the circus, but it is part of my weekly workout.
I picked up circus training two years ago from a friend who recommended it, and I secretly always wanted to give it a try. It's one of those things you wouldn't think to start in your 20s unless someone tells you how awesome it is or you happen to Google "circus studios near me."
My gateway circus apparatus was aerial silks, you know the majestic dual fabrics hanging from the rafters of a Cirque du Soleil show? I convinced my sister to take the first class with me when I was visiting her for a weekend. It was held in this modern loft in Manhattan. We joined an introductory class with a small group of women, who were all new to aerial silks, too.
Trying it out felt like getting to touch the art at a museum. It was so cool to be doing something so different. The instructor was super supportive and taught us so much in our first class. Once I tried it, I was hooked. I found a studio near where I live and have been going there ever since.
Several things have happened since I added circus arts to my fitness routine: my collection of colorful leggings has gotten out of control, I've wrapped and spun myself around every circus apparatus I can find and I've become the fittest I've ever been in my entire life.
Aerial silks was my first apparatus, and two years later it's still my favorite. Every class I go to starts with stretching, then we warm up by climbing up the silks. Then, we work on various tricks and finish with conditioning. Talk about a good workout. I've built so much upper body strength, all while not really thinking about working out.
I also now have abs. When I got into more advanced training and started doing inversions, I got a great ab workout, too. Starting out, I went at a comfortable pace so I never felt like I was being thrown into the deep end. But every class was challenging enough to put me outside of my comfort zone.
One of the things I love about circus training is the opportunity to "level up." Every circus studio I've been to has some sort of separation between classes for beginners, intermediate, advanced, etc.
As you learn skills, get stronger and become more confident, you advance to a higher level. It feels like there's an unlimited amount of wraps, climbs and drops to learn on silks. I'm learning something new every week.
When I did traditional workouts in the gym I noticed improvements too, but it wasn't nearly as exciting as finding a new way to drop gracefully from the ceiling. Plus, I never want my workouts to end, unlike my visits to a gym where I was counting down the minutes. It's hard to get bored or dread your workout when it consists of gorgeous dance movements and exciting (but totally safe) tricks where you get to roll, twirl and drop in silks. My workouts are also way more Instagram-worthy than they used to be.
After a year of circus training, I became 10 pounds lighter than when I started and felt much stronger. My arms became super toned, my abs became stronger and I overall felt leaner than I had ever been in the years before I started. I was never skipping workouts and I was motivated to give a ton effort every time I was in the studio.
A year into training, I also put together my first act. I hadn't even thought it was something I could do, but when the opportunity came up, I knew I had to do it. Who doesn't watch an aerialist perform and wish (just a little) they could do it, too? I find that having an opportunity to showcase all your hard work is a huge motivating factor in fitness.
So ,where do you go from there? Well, there's never a point where you've done all you can do on an apparatus, and I love that. However, there are also a ton of things to try. In the past two years, I've also gotten my hands on aerial hoops, corde lisse, Spanish web, aerial straps and hand balancing canes.
I have to admit, I'm totally in love with the whole lifestyle now. The circus is not all clowns and elephants. It can be the most fun and badass way to work out ever. So, ditch the gym and join the circus with me. You may just become the fittest you've ever been in your entire life.