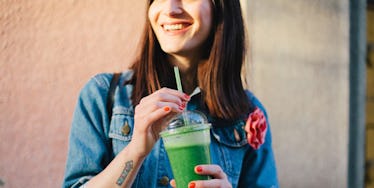 7 Inspiring Books Guaranteed To Help You Stick To Your New Year's Resolutions
It's that time of year again: We're all waking up from our food baby-induced comas and getting ready to start 2017 afresh.
We promise we're not going to make the same mistakes we did in 2016. This is the year. It's the year we're going to lose weight, find balance and create the life of our dreams.
And sure, maybe we start off that way.
January has always been the month of fresh starts, but as you go into February, things begin to change. Gym sessions turn into happy hours, cooking at home gets replaced with takeout and late nights out always take priority over sleep.
And that's normal. We're human, and we'll always want to take the easier route. So, don't be afraid to ask for a little help.
No matter what your resolution is, one of these books will have the answer. Filled with tips, tricks and some genius advice, the following seven reads will make sure you not only START the new year on the right foot, but also end it that way:
1. If you want to lose weight, read "The Little Book of Thin" by Lauren Slayton.
What it is: A short, snarky, easy read by New York-based nutritionist Lauren Slayton. She runs the service Food Trainers, where she works with her clients to tackle any and all diet-based woes.
Why it works: Slayton believes healthy eating fails because we forget to plan. It doesn't just happen automatically, especially if you're not used to it: You actually have to TRAIN your body to enjoy these foods.
She says of her book:
Friends, holidays, work can pull us away from healthy. Each scenario is tackled so that you'll be prepared for peer pressure or food pushers, etc.
2. If simply focusing on eating healthy is more your forte, you need to get your hands on "Deliciously Ella Every Day" by Ella Woodward.
What it is: UK food blogger and recipe expert Ella Woodward wrote this amazing cookbook for everyday healthy eating.
Why it works: This cookbook actually focuses on easy meals. Woodward insists healthy eating shouldn't be complicated.
She writes about the book,
It's making healthy living easy for busy people – no equipment, no complicated ingredients and lots of deliciousness using accessible ingredients, which means it's all much more inexpensive.
Making these recipes might not be easier than ordering takeout, but it'll definitely be yummier, healthier and cheaper.
3. If you want to FINALLY get enough sleep this year, check out the amazing tips in Arianna Huffington's "The Sleep Revolution."
What it is: Co-founder of The Huffington Post Arianna Huffington credits her success to the amount of sleep she gets. This book outlines the real effects lack of sleep has on our lives (hint, it's not pretty) and focuses on changing our attitude toward sleep.
Why it works: It's easy to view the idea of sleep as lazy, especially in our fast-paced world. Huffington's research shows us why we need to get more sleep in frank terms, and provides a roadmap to doing just that.
4. For serious workout motivation, look no further than "The 30-Second Body" by Adam Rosante.
What it is: Founder of The People's Bootcamp – a pay-what-you-can fitness class in New York City – Adam Rosante focuses on working out as a 30-second process.
Why it works: High intensity interval training (HIIT) has been known to burn more calories in less time, and this is exactly what Rosante wants people to know. HIIT is a combination of short bursts of intense activity combined with another short interval of either a less intense workout or extreme rest.
In his book, Rosante focuses on HIIT moves that burn fat, fast. And the best part? There's no exercise equipment needed.
5. To make sure work doesn't take up your entire life this year, take a look at "Off Balance" by Matthew Kelly.
What it is: Motivational speaker Matthew Kelly writes that the only way to achieve personal satisfaction is through work-life balance. If that's easier said than done for you, you're like most people. But Kelly takes a different approach.
Why it works: In Matthew's eyes, we don't really want balance: We want satisfaction, which we call "balance." He dives into the ways our culture has let us down and how we can harness our energy to get that satisfaction both personally and professionally.
6. To get happier, healthier and less anxious, dive into "The Universe Has Your Back" by Gabby Bernstein.
What it is: Life coach and wellness speaker Gabby Bernstein is no stranger to helping people live their best lives – she's already the author of "Miracles Now," "May Cause Miracles," "Add More ~ing to Your Life" and "Spirit Junkie." In her new book, she focuses on trusting the universe and giving you the tools you need to live a stress-free life.
Why it works: "The reason that readers are deeply resonating with this content is because of my willingness to the tell the truth. Through my honest stories, they can recognize themselves in me," says Gabby. She removes the "buzz words" and unrealistic expectations surrounding our mental consciousness, and focuses on real, tangible change.
7. If you want to make your home your sanctuary, grab a copy of "Spark Joy" by Marie Kondo.
What it is: Marie Kondo took the world by storm last year with her book, "The Life-Changing Magic of Tidying Up." In it, she focused on the KonMari method, which focuses on simplifying your life by keeping only the things that bring you joy. In "Spark Joy," she expands on that principle with how-tos.
Why it works: This illustrated guide is easy to read and provides answers to any and all questions her readers may have about the spark joy principle. The result? A decluttered home AND a decluttered mind.