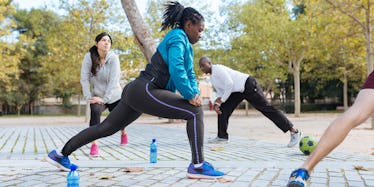 6 Outdoor Fitness Classes You Have To Try So You Can Make The Most Of This Summer
There's nothing worse than a dreaded trudge through five inches of snow to make those #gains in the wintertime.
I often find myself questioning whether dead-lifts are even worth it in the depths of December. Is anything worth it when it's that cold outside?
So, when summer finally rolls around and blesses us with constant sunshine, it's pretty much necessary to take your workout to the outdoors to make the most of the gorgeous weather.
And, yes, you can work on your bronze glow and your #BootyGains simultaneously.
I know. It's truly an emotional experience.
From outdoor dance parties, to downward dog, here are six outdoor fitness classes that serve up a killer workout -- with a side of much-needed vitamin D.
1. Yoga In The Park
Tree pose is always way more enjoyable when I'm actually surrounded by trees, and it's just like, hey fam -- we in this together.
If you're based in NYC, you can perfect your warrior pose in Bryant Park every Tuesday morning at their outdoor yoga classes.
It's open to everyone of all ages and skill levels, so bring a friend, and get ready to quite literally salute the sun from 10 a.m. to 11 a.m.
2. A Sunrise Workout
Morning people always seem like myths to me. But I guess I'd try out that lifestyle for a kickass class like this.
It must be pretty satisfying to get those endorphins flowing before the rest of the world even hits the snooze button, and The Rise lets you do just that.
From HIIT circuits, to hill sprints, you can get your heart pumping before the sunrise with these free classes.
3. Bootcamp In The Park
If you're looking for a sweaty and satisfying challenge, try finding a local bootcamp in your area.
At the Bryant Park Bootcamp, you'll endure exercises like crunches, planks, push-ups, burpees, and mountain climbers (tempting?).
I know it sounds rough, but believe me, the intense mix of cardio and strength training will provide a killer workout with results that will last all summer long.
4. NYC Endurance
Whether you're training for your next triathlon, or you're just trying to conquer the walk between rooftop bottomless brunches, this 60-minute class could be right up your alley.
NYC Endurance is run by three dedicated athletes, who mix up challenging intervals, running, and CrossFit methods (you can do it, I promise).
The trainers make sure to encourage everyone to go at their own pace, so you're guaranteed a good workout, whether you're a fitness fanatic or just doin' it to balance out the mimosas.
5. Dance Fitness In The Park
Dance it out with certified instructors from Sweet Water Dance & Yoga for these high-energy workouts along the shoreline.
These classes combine good-vibe tunes and your dream dance moves, with open-air and stunning views to enjoy along the way.
Even if your dance moves resemble an awkward platypus (I feel you on a spiritual level), try this fun fiesta out -- I dare you.
6. Beastanetics
This intense, twice-a-week HIIT class is held at the crack of dawn -- a totally natural shot of espresso, amirite?
Coach Tim Haft lures you into his combo of plyometrics and calisthenics with killer playlists, a healthy dose of competition, and... pizza crawls?
I'm not sure exactly what I just read, but I'm so down. See you there!