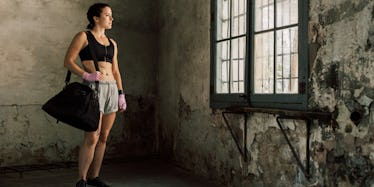 6 Cute Gym Bags That Will Motivate You To Workout When Literally Nothing Else Will
Tired of stuffing your workout clothes in a Trader Joe's reusable tote?
Same.
For someone who has more yoga pants than pairs of underwear, you'd think I'd pay more attention to what I'm actually carrying my Lulu's in.
But the other week, when I just couldn't motivate myself to get my body moving, I finally realized that a new workout bag was long overdue.
I guess I always associated gym bags with my brother's smelly lacrosse duffle, but in reality, the right bag can be stylish and versatile AF -- meaning you can take it straight from a HIIT sesh to happy hour, no problem.
Here are six adorable workout bags that will keep your gear organized and motivate you to move your booty.
Seriously, though. Pack these babies up the night before.
Then you really have #NoExcuses.
1. When You Want Three Bags In One
Adidas by Stella McCartney, $113, Zappos
This burgundy beaut has a removable cross-body strap -- totally ideal for those hectic subway commutes when it feels like you're carrying ten million things through the crowds.
Oh, and it's basically three bags in one. More bang for your buck, baby.
2. When You Don't Want To Look Like You're Going To The Gym
Frye Naomi Pickstitch Tote, $210, Zappos
If you're going from the StairMaster to a sushi date, this bad boy was made for you.
The minimalistic leather look is super versatile, and it holds everything from your wallet, to your favorite book, and even to your sweaty sports bra.
Your date won't even know you just made major gains before you two meet up.
3. When You Want Your Bag To Double As A Pillow
Quilted Oxford Nylon Tote, $215, Nordstrom
OK, I'm kidding. Kind of.
But on the real, doesn't this tote look comfy AF? Like, I'd put my head down on that thing after a cardio circuit.
The royal blue color is super stylish, and it's roomy enough for your sneakers and a pair of heels for later.
#Winning.
4. When Hitting The Showers Is A Must
Under Armour UA Motivator Tote, $44.99, Zappos
Personally, I try to avoid showering in a studio or gym locker room at all costs.
But honestly, sometimes the sweat is just too real.
Under Armour has you covered with this waterproof gym bag. #BlessUp.
Plus, the plethora of inner zippers will hold your makeup, jewelry, deodorant, you name it.
5. When You're Running From Work To Workout
City Adventurer Backpack, $128, Lululemon
Lulu, it's like you understand me on a spiritual level.
Most backpacks remind me of third-grade recess, but this baby is chic AF, and it'll make you literally dream of your workout while at your desk.
Too far?
Maybe, but stranger things have happened.
6. When You're Feeling Simple And Sporty
UA Storm Undeniable II, $29.99, Under Armour
Stay simple and keep your wallet happy with this stylish steal.
It comes in five different colors, and even has a large vented pocket for your smelly sneaks.