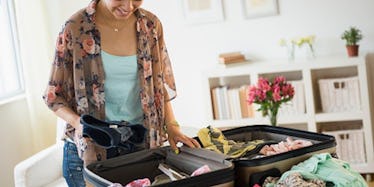 5 Ways To Maintain Your Self-Care Routine Even While You're On Vacation
Getty Images/JGI/Jamie Grill
Self-care is the most loving, selfish, and kind thing you can do for yourself. It is all about you, and what's best for you. And it's just as important to maintain a self-care routine on vacation as it is during your usual, everyday life. The world cannot get the best of you as long as you treat yourself to the beautiful things you deserve each and every day. So, as you pack for an upcoming trip, don't forget to mentally pack your intention, too. Never forget why you started your self-care routine in the first place.
Self-care is a daily practice, so whether you're traveling or not, a wellness ritual should always be an integral part of your life.
The words "routine" and "ritual" may sound a bit forced, but I promise you, it really doesn't have to be. A simple, special thing that you do for yourself while on the road involves a lot less hassle than you think.
It's all about bringing things along on your vacation that bring you a sense of calm, but are still easy to travel with. Here are five ways to maintain your self-care routine on-the-go.
1. Bring Your Healing Crystals With You
Crystals are super easy to bring with you on a trip, as I'm sure they won't take up much space in any of your bags.
Whether you sleep with them, pray over them, or use them for more power during your morning affirmations, crystals will definitely not be a burden in your luggage.
2. Your Favorite Novel Will Be Your Best Friend
Reading is a great way to practice self-care while on vacation, especially if it's a fun fiction novel, or even a super transparent self-help book.
Although you're already technically on a getaway, there's nothing quite like the escape of losing yourself in a good book.
But, when it comes to reading, remember to make sure your intentions are loose, not rigid. If you're bringing along a fiction novel that you really want to dive into, simply set the intention to read the novel, or at least one chapter of the novel. Don't put unnecessary pressure on yourself to actually finish the book. These rigid guidelines will only set you up for disappointment in the end.
3. If You're Traveling With Others, Find Solo Time For Your Self-Care
The truth is, not everyone will be acquainted with your wellness routine -- and they don't have to be.
To avoid any nosy questions or annoying, uninformed remarks, wait for your travel partner to leave the room before you do your thing.
Don't worry, the opportunities will present themselves. Have patience, and be honest with your travel companions about why self-care is important for you. They'll respect your space, just as you would respect theirs.
4. Pack Your Products Appropriately
If your self-care routine is all about your beauty regimen, then more power to you; just make sure you pack accordingly.
There are plenty of excellent beauty products that are great for traveling, and besides, in the event that you don't have travel-sized beauty products, then girl, hit up your local pharmacy! You're guaranteed to find plenty of travel-sized pouches and products for a reasonable price.
Or, if you don't trust that your destination will have the products you need, snag some generic, travel-sized bottles, and pour your facial toner, shampoo, or whatever it may be, right into that mini container. This way, you'll have a little taste of home on your getaway, and your self-care routine won't be compromised one bit.
5. Your Essential Oils Are Always Safe
Essential oils are perfect for traveling, not only because they provide excellent aromatherapy in times of stress (and, let's be real, traveling can be stressful), but they also already come in tiny packages.
Just remember to pack those little guys in your suitcase, not your carry-on -- or TSA will not be happy with you.
Overall, when it comes to a self-care routine while you're away, the main goal is to set the intention. As long as you want to do it, and are serious about this desire, then it will get done.
But remember, too, that vacation is all about malleability. Don't expect to practice your wellness routine at the same times you'd practice them at home. It can be done, but you don't have to be hard on yourself to do so.