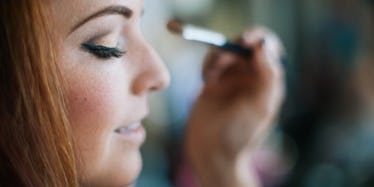 5 Products You Need This Summer To Help You Avoid The Dreaded Eyeliner Smudge
It's summertime, and truth be told, now is the time when everyone comes out looking their absolute flyest.
Except, looking your best when you can't stop sweating can feel damn near impossible.
I mean, how many times have you had to go to the mirror and attempt to fix that eyeliner smudge underneath your baby blues?
I'm willing to bet you probably lost track of that number a long time ago. And literally no one has time for that.
Put your worries aside, because with these five life-saving products, your eyeliner precision will slay the game and kick the smudge to the curb.
1. Prime Those Lids
Photo Finish Lid Primer, $21, Smashbox
The first step to take when it comes to preventing your makeup from smudging is to prime the skin.
So if you don't want to look goth against your will, then this is a step you definitely shouldn't skip in your makeup routine.
Apply before your eyeshadow and eyeliner for added definition that will last through even the most sweltering of hot summer days.
2. Mascara That Won't Give Up On You
CoverGirl Lashblast 24 Hour Mascara, $5, Amazon
Your best bet is to stick to waterproof mascara. After all, you want to take every bit of caution here, because there's simply nothing cute about raccoon eyes.
Like the name suggests, CoverGirl's Lashblast 24 Hour Mascara will keep your lashes looking as good as ever, no matter what you do to have fun on a summer day.
3. An Eyeliner You Can Actually Trust
Laura Mercier Tightline Cake Eye Liner, $25, Sephora
All black everything, amirite?
This eyeliner dries within seconds, so you can put all your smudge-related worries to bed, once and for all.
Pro tip: Push the liner into your lash-line with a damp, flat-edged brush to maximize the product's longevity.
4. A Lifesaver For When The Smudge Is Too Stubborn
Almay Oil-Free Eraser Sticks, $8, Amazon
Consider this your own version of a little first aid kit for your eyeliner smudge woes.
Use these little guys whenever your makeup just can't help but be unruly.
The precision honestly can't be beat, and since the formula is oil-free, your skin will love it.
5. Seal The Deal With A Protective Setting Powder
COVER FX Perfect Setting Powder, $35, Sephora
The setting powder is to top it all off and guarantee a totally smudge-free look.
With this baby, I promise, you can even ditch the Instagram filter for your next selfie -- it's just that good.