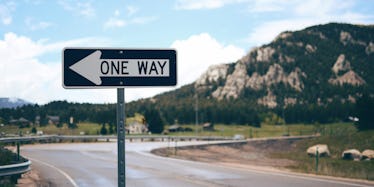 6 Reasons Why You Should Travel On Your Birthday Instead Of Throwing A Party
Nick Tiemeyer/Unsplash
Whether or not you do much for your birthday, you should seriously consider traveling.
Parties are fun and all, but they're common and often unpredictable.
Travel is pretty flexible, considering it's planned in advance. You can plan the trip of your dreams with your mom or your besties, all while celebrating the day you blessed the world with your presence.
There are plenty of travel options for all times of the year across the globe. Whatever your budget or time limitations may be, there's an enjoyable vacation with your name on it.
Here are six reasons why you should travel on your birthday instead of throwing a party.
1. Vacations Last Longer Than Parties
Why would you turn up for one night when you can celebrate for an entire weekend (or even a week)?
There's no law that says you're not allowed to have a good time unless today is your actual birthday, so take advantage of the time you've dedicated to yourself.
2. You'll Remember More Than Just A Hangover
Even if you don't get blackout drunk on your birthday, a hangover is an unwelcome consequence of having a little too much fun.
Instead of partying hard for one night only, you can spread out the celebration and avoid that nasty feeling in the morning.
Book up your trip with sightseeing, exploring new restaurants, and hitting up tropical beaches (if that's where your getaway takes you).
You'll be having an awesome time with or without the alcohol. Traveling alway creates a ton of new memories, so at least if you do get a hangover, it won't be the only thing you remember.
A hangover in a cool new place can't be that bad, right?
3. It's A Special Gift For Your Special Day
Especially if you're used to throwing parties for your birthday, traveling will be a super unique and memorable experience for the books.
This birthday will stand apart from all the others, and it's something you can give yourself. You work hard, take care of yourself, and definitely deserve to treat yo'self once in awhile.
If this is a milestone birthday, even better.
4. You'll Bond With Friends And Family
The experiences of traveling, whether stressful or enlightening, are prime time to bond with whoever tags along.
Travel, especially anything last-minute, remote, or especially distant, may not be possible or preferred for part of your squad. Don't feel bad if this is the case, but know that those who came with you are the definition of true friends.
If you're embarking on a solo journey to celebrate another trip around the sun, more power to you. Traveling alone isn't easy, but it's oh so rewarding.
5. You'll Reap All Of The Birthday Discounts
Apart from restaurants and shops that offer birthday discounts, it's possible to take a few dollars off the price of your trip simply by traveling on or around your birthday.
Hotel chains like Kimpton Hotels offer birthday reward programs for members, which can include discounts and surprise gifts.
Some of your guests may also opt to help cover travel expenses for your big day. If so, make sure to send a thoughtful thank you card at the end of your trip.
6. You're The Birthday Boss
You rule, Birthday Queen.
With parties, things may not always turn out how you want them to. Maybe you'll drink a little too much or half of your guests will bail at the last minute.
On your birthday vacay, whatever you says goes. You're in charge of the trip from start to finish, so personalize your getaway with whatever you need to have a good time.