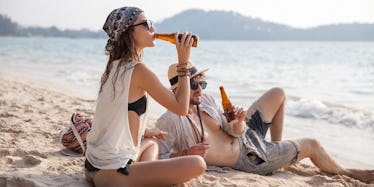 Where You Should Go On Your Next Vacation, Based On Your Personality Type
Those who possess the travel gene are blessed with something that sets them apart from the rest.
They're wanderers, and the feeling is a high like no other.
Every second of taking in gorgeous architecture and savoring (insanely) delicious pizza in Florence, Italy is so fulfilling to you. Each sip of limoncello makes you fall even more in love with the spectacular city that encompasses you.
Hiking atop Mt. Vesuvius and watching the sun set behind the windmills in Mykonos, Greece only adds to your deep desire to explore more of the world. It has so much to offer, and the adventurer in you doesn't want to miss out on a thing.
The traveler not only shares a passionate love for exploring, but rather also becomes an integral part of the place he or she wanders to.
Traveling can be an addiction, and it's the perfect way to express your identity. In fact, I believe one of the best ways to enrich your life is to explore extraordinary places and travel the world.
Wandering allows you the opportunity to broaden your mind and feed your wanderlust. And with spring break just around the corner, what better time than now to start planning a vacation?
Here's where you should go in the world for your next getaway, based on your personality:
1. The Extreme, Thrill-Seeking Type
Those classified under Carl Jung's theory of psychological types as "ESTPs" (which stands for extraverted, sensing, thinking, perceiving) live off spontaneity and adventure.
They don't do too much planning in advance, and they get so much joy from listening to their impulses. These thrill-seekers should hit up the gnarly slopes of Queenstown, New Zealand for an unparalleled heli-ski experience.
The beautiful backdrop and terrain will certainly satisfy the adventurous type.
2. The Life Of The Party, Outgoing Type
ESFPs (extraverted, sensing, feeling, perceiving) are all about embracing a fun lifestyle at full throttle. You can always count on this person to bring refreshing, exciting vibes to any squad, party or trip. Basically, any scenario you can think of, this person is the life of the party.
A perfect vacation for an energetic soul like this one is Rangiroa, French Polynesia, otherwise known as "The Endless Lagoon." And of course, the person HAS to be surrounded by his or her main crew.
Rangiroa is a "string of coral" surrounding a breathtaking lagoon. The landscape is unparalleled.
This is the ultimate destination for diving into vibrant blue waters, and this soul will have no problem getting the party started on a Tahiti yacht charter.
3. The Confident, Leader Of The Pack Type
ENTJs (extraverted, intuitive, thinking, judging) are known to be planners and leaders… that's what makes them excel at life. They know how to get things done and make decisions efficiently.
Anyone who falls under this personality type should travel to the island of Majorca, Spain.
Friends and family who travel with this person can be sure to receive a complete, organized itinerary filled with plans to explore surreal beaches, go on bike tour excursions and learn all about the beauty behind the island's sacred sites.
4. The Charming, Dreamer Type
ENFJs (extraverted, intuitive, feeling, judging) tend to open their eyes to the big picture. They're known for being charismatic and extremely social, while placing deep value on their dreams.
Social butterflies and dreamers of this sort would be on cloud nine while traveling to Florence, Italy. They would get so much happiness from striking up conversations with local shop and restaurant owners over espresso.
Florence offers a plethora of culture and art, along with impeccable food and picturesque nooks and crannies any traveler would be beyond excited to seek out. The views from Piazza Michelangelo, overlooking the city, are oh-so dreamy.
It would certainly be an unparalleled trip.
5. The Performer, Posh Type
ISTPs (introverted, sensing, thinking, perceiving) have a notorious reputation for being "performers." They tend to chill out until an opportunity or fun plan presents itself. Then, they completely embrace it and give 100 percent.
A person with this personality type deserves a unique, lavish adventure that's different from the rest. It truly has to peak the person's interest, which is why staying at Icehotel in Jukkasjärvi, Sweden is a prime option.
It's the very first hotel in the world that was built out of snow and ice. Frequenting the ice bar will bring on fun times, especially while casually sipping cocktails from a glass made of ice.
6. The Humanitarian Type
INFJs (introverted, intuitive, feeling, judging) are humanitarians, go-getters and dreamers. The intriguing thing about people who fall under this personality type is they can be mistaken for extraverts at times because they come across as being really social and exude so much passion for other people.
This person should travel to Australia, and possibly do some volunteer work while he or she is there. With the stunning backdrops, beaches and epic wildlife, there's no better spot to immerse oneself in a different culture... in the outback.
Enriching your soul by embracing new adventures, meeting new people and learning their unique cultures and ways of life is always an incredible experience.
Book that vacation, peeps. The time is now!